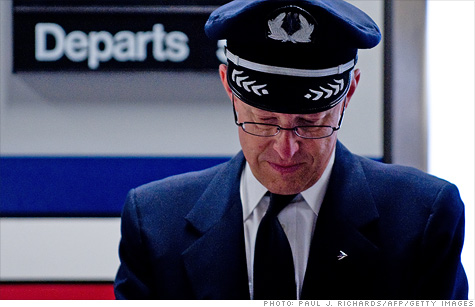 American Airlines' pilots, and other employees, are likely to be big losers in the airline's bankruptcy reorganization.
NEW YORK (CNNMoney) -- Tough times await most of the 81,000 employees at American Airlines and parent company AMR.
They'll likely be spared pay cuts as the airline works its way through bankruptcy. But they face severe pension cuts, longer hours and layoffs.
One of the reasons behind the bankruptcy filing was what management called an $800 million cost disadvantage to other airlines.
Pay rates is not the big issue: American Airlines workers are paid pretty much in line with their counterparts at other major airlines.
In fact, the hourly wage for pilots at American (AMR, Fortune 500) is less than for their counterparts at Delta Air Lines (DAL, Fortune 500) and Southwest (LUV, Fortune 500), and comparable to pay at United Continental (UAL, Fortune 500).
While neither the union nor airline will say what a typical American pilot earns, a captain there has an annual base pay of about $150,000, based on hourly pay rates.
The big difference is in worker productivity and pensions.
American pilots fly fewer hours than their counterparts at other carriers, and receive similar pay and benefits for less work time. And because the maximum number of hours an American pilot can work in a month equals the minimum at Southwest, American is required to hire more people to work in the cockpit for the same amount of flying.
The lower minimum hours in the American contract is a major driver of its labor cost disadvantage -- costing about $200 million annually. American pays an estimated $35,000 per unionized employee in benefit costs, about twice what its competitors pay, according to airline consultant Michael Boyd.
Some jobs would be trimmed if American reduces its service as part of the reorganization. Even more jobs will be lost if American gets the work rules it wants in upcoming labor talks.
With the bankruptcy court having the power to void the current contract, management now has much more leverage over the unions to force the changes it wants.
Even the union leaders at American say increased productivity is something they were willing to address in the next contract.
"We have been open to taking a good look at that," said Gregg Overman, communications director for the Allied Pilots Association, which represents the 8,000 active pilots at American as well as those still on layoff.
He said the problem with the union agreeing to major changes in productivity is the loss of additional pilots' jobs. More than 600 pilots still on the furlough list dating back to 2001, and there has been a lack of promotion opportunities caused by the airline having about 40% fewer active pilots than it did before the Sept. 11 terrorist attack.
Many pilots were bumped down to lower pay grades due to the staff cuts and are being paid significantly less than they were a decade ago.
The other big problem is the state of the pension plans at American. The airline estimates that its pension funds are underfunded by about $5 billion. The Pension Benefit Guaranty Corp. (PBGC), the federal agency that backs these kinds of pension plans, puts the underfunding at close to $10 billion based on different assumptions.
Whichever number is correct, by entering bankruptcy, American can now dump the pension funds on the PBGC. That means the agency could assume responsibility for the benefits, allowing the airline to shed the responsibility of covering that underfunding.
PBGC Director Josh Gotbaum said in statement this week that the agency would do what it can to try to stop American from terminating the plans.
"Unfortunately, when the agency assumed airline plans in the past, many people's pensions were cut, in some cases dramatically," he said.
About $1 billion of promised benefits to 160,000 plan participants at American will not be paid in the plans land at the agency, he said.
Pilots will take the biggest hit, taking benefits that might have been $75,000 a year down to about $25,000. That's partly because of limits on PBGC payments and partly because it reduces payments to those who retire before age 65. Before 2007 pilots faced a mandatory retirement age of 60. The limit was raised to 65 that year.
Kit Darby, who runs Air Inc., a career resource company for airline pilots, is one of those pilots who took a hit on an earlier bankruptcy when he retired from United at age 60. Before United's bankruptcy, had had been on track for about $7,000 a month in pension benefits, he ended up with $2,300.
"Nobody takes a worse hit on this than the pilots," he said. "Your work your entire career expecting to retire at one level, and then it's gone. To lose two-thirds of your retirement, it's just criminal."
Other union workers won't take nearly as bad a hit because their benefits are typically under the $4,500 a month maximum payment from PBGC.