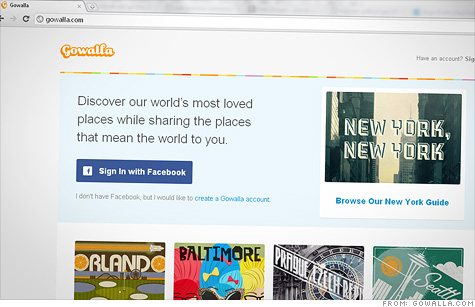 NEW YORK (CNNMoney) -- Facebook has acquired location sharing service Gowalla for an undisclosed sum, according to a source close to Gowalla.
Facebook declined to comment on the deal.
"We don't comment on rumor and speculation," a company spokesman said.
Most of Gowalla's employees, including founder Josh Williams, will move to Facebook's offices in Palo Alto. The team will work on Facebook's Timeline feature, which launched at this year's F8 conference and is gradually rolling out to Facebook's 800 million members.
Launched in 2009, Austin-based Gowalla went head-to-head with direct rival Foursquare -- and lost. Badly trailing Foursquare in user adoption, Gowalla recently shifted directions, recasting itself as a travel guide. The site had raised around $10 million over the years from backers including the Founders Fund, Greylock Partners and a collection of angel investors.
"It's a perfect match," said the source, who asked not to be identified because the deal has not yet been publicly announced. "As far as the big picture, Gowalla's vision is about people telling stories, and Facebook's vision for Timeline is about stories about important moments in life."
Some Gowalla employees will stay in Austin and work out of Facebook's local office there.
Whether or not Gowalla's app will remain alive has not yet been determined. Facebook has a habit of buying promising startups and killing them off to deploy their engineers and developers on other projects. Its hit list includes Beluga, Hot Potato, Drop.io, Snaptu, Digital Staircase, among more than a dozen others.
Facebook views takeovers as a good way to build up its talent bench. The company aims to make about 20 purchases in 2011, up from 10 last year, Vaughan Smith, Facebook's director of corporate development, told Bloomberg in August.