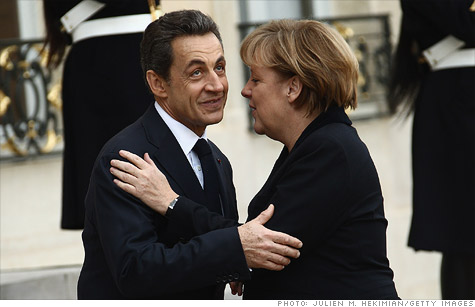 French President Nicolas Sarkozy welcomes German Chancellor Angela Merkel at Elysee Palace on December 5, 2011 in Paris, France.
NEW YORK (CNNMoney) -- Ahead of a key summit this week, the leaders of France and Germany agreed Monday on a new fiscal pact that they say will help prevent another debt crisis.
French President Nicolas Sarkozy outlined the basic elements of the plan to increase budget discipline after meeting with German Chancellor Angela Merkel in Paris.
The pact, which will be presented in detail at a meeting of European leaders later this week, will involve amending or rewriting the treaties that govern the European Union, the leaders said.
"The crisis requires an extra commitment towards unity and a Europe that will not repeat the mistakes of the past," said Sarkozy, speaking alongside Merkel, at a press conference.
Sarkozy and Merkel said they would like all 27 members of the European Union to adopt the pact. But they also said an agreement among the 17 nations that use the euro would be acceptable.
In what is seen as a concession by Sarkozy, the pact includes automatic sanctions for member states that fail to keep budget deficits under 3% of gross domestic product. France had argued that making sanctions automatic would infringe on national sovereignty.
Among other things, the pact would change existing laws to make it easier for EU regulators to challenge budget policies of member nations.
It would also require governments to enshrine a "golden rule" in national constitutions, which would likely require committing to balanced budgets.
Furthermore, Sarkozy and Merkel called for accelerated implementation of a permanent mechanism to replace the European Financial Stability Facility.
They also said government leaders from the 17 eurozone nations should meet monthly to discuss ways to boost economic growth.
"This package shows that we are absolutely decided to do everything necessary to keep the euro as a stable currency," said Merkel.
Sarkozy and Merkel also welcomed an austere new budget unveiled by Italian Prime Minister Mario Monti late Sunday.
The leaders once again ruled out a common form of debt, known as eurobonds, as a solution to the current debt crisis.
The talks in Paris come just days before leaders from all 27 members of the EU are set to gather in Brussels for a meeting of the European Council.
European policy makers are under intense pressure to deliver a comprehensive and lasting solution to the eurozone debt crisis, a feat that has eluded them for well over a year.
The leaders are expected to debate rewriting EU treaties and other steps aimed at strengthening economic and political integration in Europe.
Meanwhile, the European Central Bank will hold its regularly scheduled policy meeting Thursday. The bank is widely expected to cut interest rates as economic conditions have sharply deteriorated in Europe.
Many analysts say the talk of a fiscal pact is designed to address concerns within the ECB management over providing additional support for troubled euro area governments.
The ECB and Germany have strongly resisted increasing the bank's purchases of euro area government bonds. But the bank's new president, Mario Draghi, hinted last week that additional measures could follow if governments agreed to a "fiscal compact."