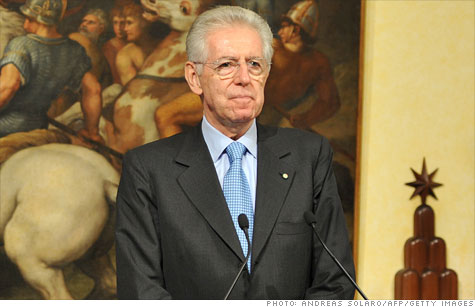 Italian bond yields dropped on Prime Minister Mario Monti's plans to raise taxes and cut spending.
NEW YORK (CNNMoney) -- Italian bond yields backed further away from the danger zone Monday, as Italy's new prime minister prepared to present a budget proposal that includes €30 billion in new taxes and spending cuts over two years.
The news pushed the yield on the 10-year Italian bond to 5.95% -- a level not seen in at least a month. That's a welcome change for Europeans looking for signs of stability. For weeks, the 10-year yield has been stuck around the uncomfortable 7% mark.
That's been worrisome for investors since it's the level that was exceeded by Ireland, Portugal and Greece shortly before they needed bailouts.
"Italy, in order to have a more effective role, needs to resolve problems that it has inherited and that make Italy a possible element of infection," said Italian Prime Minister Mario Monti. "We are in a very crucial week."
European leaders will meet Friday for yet another summit to discuss ways to solve the debt crisis, with a focus on rewriting European Union treaties.
Also this week, the European Central Bank will hold a policy meeting, which is widely expected to result in an interest rate cut.
The ECB has been under pressure to step up its bond buying purchases and recently opened the door to that possibility.
ECB president Mario Draghi hinted that he might get more aggressive about buying sovereign bonds from eurozone nations, depending on what leaders decide Friday. "Sequencing matters," he said last week.
European stocks moved higher in anticipation of a European deal. London's FTSE 100 (UKX) was 0.3% higher at the close while the DAX (DAX) in Frankfurt rose nearly 0.4% and the CAC 40 (CAC40) in Paris jumped 1%.
But analysts sounded a note of caution that investors shouldn't get overly excited just yet.
"There is a real danger that anything agreed this week will be watered down as it goes through the process of approval at national levels, and what we end up with is less of a fiscal union and more of a strengthened stability pact," said Gary Jenkins, head of fixed income at Evolution Securities in London.
Worries about how deep the contagion has already spread remain, with Italy still at the forefront of those concerns.
Italy is the third-largest economy in the eurozone and the largest bond issuer, with nearly €1.9 trillion in debt. It's the latest European country to face hard questions over its debt load, a crisis that has threatened to unravel the common currency for 17 European states.
Monti took office in November following the resignation of longtime premier Silvio Berlusconi, who was brought down by difficulties in pushing through budget cuts. He was the second European leader forced out by a debt crisis, along with Greece's George Papandreou.
Under Monti's budget proposal, ordinary Italians will be making sacrifices to rein in government spending. About €20 billion would come from a number of areas, including how Italian workers' pensions are calculated and a one-year increase in retirement ages
Monti, a former European Union commissioner, said the measures are necessary to "save Italy." He said Italians should blame him, not European Union leaders, for the cuts.
"I will never ask Italians to take sacrifices because Europe is asking for them," he said. But he added, "I prefer criticism of me rather than Europe. Things can go on without me, not without Europe."
In announcing the cuts late Sunday, Monti -- who also serves as finance minister -- said he would take no salary for either position.
The package needs to be approved by Italy's parliament.
-- CNN's Livia Borghese contributed to this story.