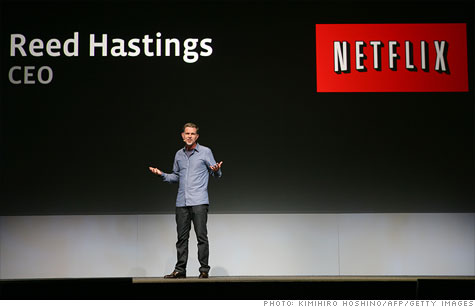 NEW YORK (CNNMoney) -- Say what you will about Netflix CEO Reed Hastings' recent choices, but he's crystal-clear on how customers view his company's tarnished brand.
Hastings made several frank, rueful comments about Netflix's (NFLX) mistakes at the UBS Media conference in New York on Tuesday.
"We did so many difficult things this year that we got overconfident," Hastings said. "Our big obsession for the year was streaming, the idea that 'let's not die with DVDs.'"
Netflix's 2011 troubles began when it announced it would charge separate prices for its DVDs-by-mail and streaming video plans. But the real debacle came in September, when Netflix announced its DVD service would be rebranded as Qwikster. Customers raged so much that Netflix pulled a stunning reversal a few short weeks later and canceled the entire Qwikster plan.
"We moved too fast with it," Hastings said. "We berate ourselves tremendously."
But Hastings didn't shy away from the philosophy behind Qwikster, as he downplayed the DVD business several times during his talk.
"Streaming is the future; we're focused on it," he said. "DVD is going to do whatever it's going to do. We don't want to hurt it, but we're not putting much time or energy into it."
Instead, Hastings sees Netflix as more aligned with HBO (owned by CNNMoney parent Time Warner (TWX, Fortune 500)). He views the on-demand service HBO Go as Netflix's main competitor in the streaming space -- not direct rivals like Hulu and kiosk service Redbox (owned by Coinstar (CSTR)), or big tech players like Amazon (AMZN, Fortune 500) and Google (GOOG, Fortune 500).
To that point, Netflix has licensed its first original series, "House of Cards," which stars Kevin Spacey and is due out in late 2012. Hastings touted the series several times while he discussed the problem of how customers view Netflix's streaming selection.
"There's this idea of, 'It's the Internet, it's everything!'" Hastings said. "Because when you go to Amazon, you get to choose among all the books. When you go to Expedia, you get to choose all the travel."
But the problem for Netflix, he said, "is that in streaming, we're a cable network from a rights standpoint."
Buying those rights is getting tougher, as studios are demanding more money for their valuable content. One analyst predicted earlier this year that Netflix's streaming content licensing costs will rise from $180 million in 2010 to a whopping $2 billion in 2012.
And last month, Netflix said in a regulatory filing that it has payments of more than $3.5 billion due over the next few years to pay for content under contract. But Netflix is willing to pay dearly for content if viewership pays off.
"We're very much the 'moneyball' content buyers," Hastings said, referring to Michael Lewis' book about a low-budget baseball team's approach to player acquisition. "We'll look at, OK, we paid X for something, so how many people watched it?"
Hastings also faced tough questions about last month's double-bomb disclosure: Netflix now expects to lose money for all of 2012, and it is looking to raise cash in a secondary offering of its stock.
Those secondary offerings are sometimes considered ominous signs, as they can signal that a company needs to raise cash quickly.
"We were probably adequately capitalized, but we were a bit thin," Hastings said. "And then the suppliers get nervous and they want their cash up front, and then you do end up with a cash problem."
Amid all of the problems, Netflix shares are down 74% over the past six months.
But Hastings made his case for the stock, saying that people should invest "if you believe Internet video will become ... dominant over the next 20 years."