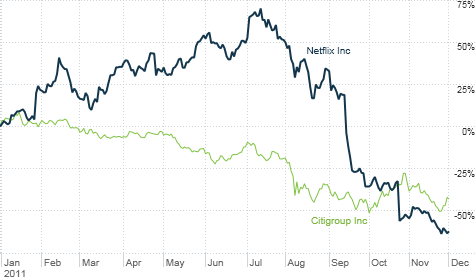 Shares of Citigroup and Netflix have been crushed this year. But hedge fund manager Whitney Tilson thinks both are due for a comeback.
Netflix and Citigroup: the BPs of 2011? -- Don't call him a hypocrite on Netflix. Hedge fund manager Whitney Tilson is a buyer when the world hates companies.
In 2010, the world's most hated company was BP (BP). Tilson bought it and won big.
For 2011, those stocks are Netflix (NFLX) and Citigroup (C, Fortune 500), Tilson said on a panel at a Bloomberg hedge fund conference in midtown Manhattan Thursday.
Tilson explained that he likes to buy hated companies when negative headlines are pushing down their stock price. So that was the reason he reversed course on Netflix in late October and bought it after publicly deriding the company's valuation since late 2010.
"I fully expect Netflix to be crazy volatile, but just like BP last year, it's a pretty good business worth a lot more than it's quoted at today," said Tilson. "There's a 50% chance we'll double our money in a few years."
As for his bet on British oil firm BP, the stock is up roughly 50% since June 2010. Whitney started publicly touting BP's long-term value in June, months after the oil spill started from a BP pipeline in the Gulf of Mexico and not long after Congress started a criminal probe into BP.
It's hard to compare public outrage over Netflix's rising prices on subscription for DVD services to potentially killing generations of ocean life in the Gulf of Mexico. Still Netflix's stock has dropped roughly 65% since the start of the year and even more significantly since its highs in February.
Like Netflix, Citigroup has also been hit hard. It is down 42% this year.
Tilson didn't say how much of the drop in Citigroup's share price could be attributed to movements like Occupy Wall Street and public disillusionment with the financial sector as opposed to more serious economic concerns like the European sovereign debt crisis.
But Tilson admitted that even he didn't have the stomach to buy Bank of America (BAC, Fortune 500) this year. Shares of BofA are down nearly 60% this year.
Tilson said he's not just betting on the biggest losers. He said that several tech stocks help him sleep better at night because they're less volatile and hedge T2's short positions and other risky investments.
He said he likes Microsoft (MSFT, Fortune 500) and Dell (DELL, Fortune 500) and questioned why anyone would buy Treasuries yielding 2% when the technology companies offer 3% dividends to investors.
Tilson spoke on a panel on long-short investing strategies for hedge funds with Dennis Gartman, publisher of an eponymous investment research letter, and Columbia Business School professor Bruce Greenwald. The three disagreed on most companies but they found one stock they all liked: Smuckers (SJM, Fortune 500).
Shares of Smuckers are actually doing well. They are up nearly 15% year-to-date. And there may be no public outcry over jam sandwiches -- although peanut butter prices are rising. But Tilson still thinks it's a buy.
"Smuckers is the kind of company with a really great brand and franchise," said Tilson.