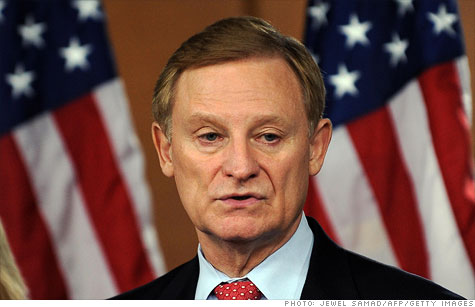 Rep. Spencer Bachus was among those named in a 60 Minutes report last month on alleged insider trading in Congress. He presided over a hearing on the issue Tuesday.
NEW YORK (CNNMoney) -- Is insider trading by members of Congress legal? How common is it? What's being done about it?
Congress itself is tackling those questions right now following an explosive report on 60 Minutes last month.
The program accused House leaders John Boehner and Nancy Pelosi, as well Spencer Bachus, a key House lawmaker on financial issues, of making investments based on confidential knowledge gained over the course of their work.
All three have rejected the allegations, but that hasn't stopped the issue from gaining steam over the past few weeks.
Now, both houses of Congress have taken up versions of a bill called the Stop Trading on Congressional Knowledge Act -- the "STOCK Act" -- that would explicitly outlaw the practice.
Is it legal? Legal scholars have long debated whether the federal anti-fraud laws used to prosecute insider trading on Wall Street apply on Capitol Hill.
Some say that such trading may be legal in certain cases, because members of Congress do not have a legal duty, as corporate employees do, to keep information that they learn in the course of their work confidential.
But others say that members of Congress have a legal responsibility to the public not to use professional information for personal benefit, making them liable for insider trading offenses just like anyone else.
In any case, no member of Congress has ever been prosecuted for insider trading based on government knowledge.
How common is insider trading on the Hill? There is evidence to suggest that at least some past members of Congress beat the market with astonishing regularity.
A 2004 academic study based on trades by senators from 1993 to 1998 found that taken together, the senators' portfolios beat the market by a whopping 12% per year.
A follow-up study by the same authors on transactions made by roughly 300 House members between 1985 and 2001 found that a portfolio mimicking these purchases beat the market by about 6% annually.
Whether this is the case with the current Congress isn't clear. A study released earlier this year by researchers from Yale and MIT found that the average investor in Congress between 2004 and 2008 actually under-performed against the market by 2-3% annually.
Alan Ziobrowski, a professor at Georgia State University who co-authored the earlier studies, said the apparent decline in congressional insider trading suggested by the new study may indicate that officials simply pulled back from the practice temporarily following the initial scrutiny.
"I think what you're seeing is more or less a behavioral change. Whether or not it's permanent is rather doubtful," Ziobrowski said. "I think it's still quite possible to pick up information that no one else has access to."
What's being done about it? The STOCK Act, originally introduced to a muted reception in 2006, has drawn much more interest in the past few weeks. Versions are pending in both the House and Senate.
Rep. Louise Slaughter of New York, who introduced the House version along with Tim Walz of Minnesota, noted at a House Financial Services hearing on Tuesday that while the bill had only nine co-sponsors ahead of last month's 60 Minutes broadcast, it now has "171 co-sponsors and counting."
But experts say the legislation needs significant revisions before it becomes law.
Robert Khuzami, director of the enforcement division at the Securities and Exchange Commission, pointed out Tuesday that congressional investments in ETFs, options and mutual funds based on inside information aren't covered under the House bill, nor is tipping off outside sources.
Donna Nagy, a professor at the Indiana University School of Law, added that because the bill mentions only "pending or prospective legislative action," trading based on other kinds of non-public information -- for example, cabinet briefings -- could go unpunished.
Most important, Ziobrowski said, is that lawmakers tighten the bill's proposed 90-day deadline to report any transactions. He thinks it should be just a few days, as it is with corporate insiders.
"This is an issue of ethics, and it's an issue of people having faith in government," Ziobrowski said. "It's crucial that people believe that a congressman is not voting for his portfolio, but instead is voting for the benefit of his constituents."