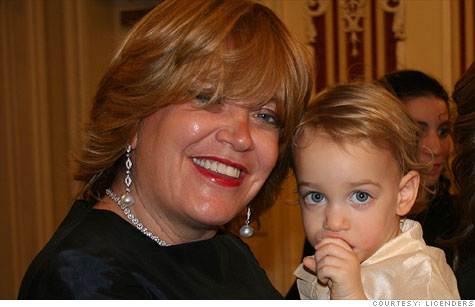 NEW YORK (CNNMoney) -- Who says being nitpicking doesn't pay off?
Twenty years ago, Adele Horowitz was experiencing every parents' nightmare: finding out your kid has head lice, and then trying to get rid of the pests.
Horowitz remembers the comb snapping in half as she tried to remove lice and nits out of her daughter's hair and then applying toxic products to her scalp to make sure the buggers were gone.
There had to be a better way. So Horowitz started Licenders, a professional lice-removal company, which is well, making a killing.
Last year, Licenders made over a million dollars in revenue.
Horowitz didn't start her business right away. Up until the company's launch in 1996, she had a busy career managing other people's businesses, including her father's Wall Street Camera company in Manhattan. "My father would often say, 'You're going to make a great secretary someday,' and I would say, 'No, Daddy, I want your business.' "
Now she's finally a business owner -- of a company that sees clients at its Manhattan office or in their homes. A disposable applicator tip on the FDA-approved LouseBuster device directs heated air against the hair roots, essentially killing off lice and nits during a 30-minute treatment.
In 2010, Horowitz sailed past the $1 million mark, two years after earning a spot in Make Mine A Million $ Business, a Count Me In initiative geared to help female entrepreneurs reach this financial milestone. At that point, she vowed to take Licenders to the next level. She has added 20 employees and done media outreach, which includes appearances on Regis & Kelly, and FOX News.
"They teach you. They guide you, and they hold your hand," she said about the Count Me In Initiative. Once she hit $1 million, she was already dreaming of eight figures. "By the time you get close to it, you're already looking past it," she said.
This month, Licenders adds a second office, in Connecticut, and is planning to open nine more locations within the next 18 months. The company also recently received Ministry of Health approval from Israel, which will allow the products to be sold throughout Europe.
Yitz Elman of Brooklyn, N.Y., dialed up Licenders after he spotted lice in his daughter's hair. "It was right before a major holiday. They came over with this big, almost Ghostbusters-type of machine, and they took care of it. It took a horrible situation and made it very manageable."
In addition to his other daughter, his wife was immediately examined for head lice. The wife went to Licenders' Manhattan office. "She said it was like going into a spa," said Elman.
All-natural hair-care and household products sold through Licenders' website with next-day delivery are a departure from pesticide-ridden products like RID and Nit commonly recommended by doctors, said Horowitz.
Both the preventative mousse and treatment shampoo contain herbs and essential oils. The metal fine-tooth comb is practically unbreakable. There is also a laundry additive and a non-toxic household cleaner. "One of the things that may appeal to people is that it's an all-natural product," said Dr. Yolanda Holmes, a Washington D.C., dermatologist. "The people that bring (lice) infestation to the family are children and so people are really concerned about chemicals."
"If there's a less irritating product out there, that's a good thing," said Dr. James Bancroft, who practices family medicine at Robert Wood Johnson University Hospital in Hamilton, N.J.
Like Licenders, which will visit a child's school to help eradicate lice, he advocates treating more than just the scalp. (Licenders will visit a child's school to make sure the lice infestation stops.) "The lice itself can jump off onto clothing, blankets, hats, stuffed animals and survive up to two days."
While eco-friendly products helped get her company noticed, Horowitz's biggest challenge in growing her business has been staffing. In a tight-knit office of 60 employees, everyone has to get along. And sometimes they got along too well.
"I have a nature to be friends with my staff, and it doesn't really work. I had to be the boss," she said. "I ended up firing my friend because I couldn't get her on track." Through setting boundaries, and keeping emotional distances, she's become a skilled leader. Yet she still views each employee as family. While in Israel recently, she brought back presents for her staff.
She learned the hard way that higher wages often attract better employees. "They're representing me -- I'm not looking for cheap labor," Horowitz said. She starts employees at $17 per hour with the opportunity to earn up to $40 per hour. "It's very important for me to be an advocate for women. I know you have little kids or might be taking care of your parents." To that end, she tacks on $10 per hour for hours worked past 5 p.m.
"They like helping people," said Elman, who said he wouldn't hesitate to call up Licenders again for some "Ghostbusters-type" action. "They're not doing this as a quick money-maker."