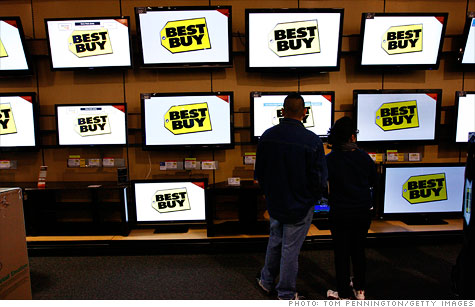 Retailers have said Black Friday sales were strong. But companies that make components for TVs, phones and tablets have warned of slowing consumer demand.
NEW YORK (CNNMoney) -- There was a lot of hype from retailers about how awesome Black Friday and Cyber Monday sales were. Now for the reality check: It seems that consumers may not be spending so much for the hottest new devices after all.
Gadgets are often the most sought-after holiday gifts. But several companies in the tech supply chain have recently come out with bleaker financial forecasts, citing weakening demand for electronics.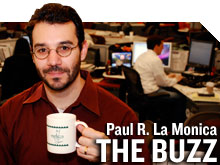 DuPont shocked the market Friday by cutting its earnings outlook. In its release, the company cited a litany of factors for the warning. But what was most telling was the admission that "consumer electronics demand has further softened."
DuPont may be known best for its old "Better Living Through Chemistry" slogan. But the Dow component is actually a big player in tech, manufacturing materials used in semiconductors as well as components for LCD screens on TVs, smartphones and computers.
So if DuPont (DD, Fortune 500) is experiencing a downturn in its electronics business, that could be bad news for the tech world at large. It also is troubling because Corning (GLW, Fortune 500), the glass maker with a big presence in the LCD market, said at the end of last month it was reducing its sales outlook for its Gorilla Glass unit because of "lower worldwide demand for cover glass for tablet computers."
A trio of chip companies have also trimmed forecasts in the past 24 hours. Texas Instruments (TXN, Fortune 500), a leading manufacturer of chips for smartphones, cut its revenue and sales targets for the fourth quarter Thursday. It blamed "broadly lower demand across a wide range of markets, customers and products."
Altera, a company that makes programmable logic device chips used in phones, computers and entertainment systems in automobiles, said Thursday that its revenue outlook for the fourth quarter "has deteriorated across all major vertical markets, including both large and small customers."
An Altera (ALTR) competitor, Lattice Semiconductor (LSCC), followed suit with its own sales warning Friday morning. Lattice said it was "due to further softening of demand primarily in the communications business in December."
Some of the "softness" that all these firms are citing could be a simple case of companies trying to reduce expectations.
"What we're seeing on the components side could be just caution as companies clean up inventory at the end of the year," said Cody Acree, a semiconductor analyst with Williams Financial Group in Dallas. "Why not get as lean as possible?"
But when you look at what all these companies are saying, it sure sounds like consumers -- who have helped keep the U.S. economy afloat by continuing to spend at a decent clip -- may finally be getting nervous about the problems in Europe and continued concerns over the debt load of the federal government.
DuPont and Altera both mentioned the dreaded "economic uncertainty" (perhaps the market/macroeconomic phrase of 2011?) in their release.
Of course, there will obviously be some winners in the world of tech this holiday season. Analysts are predicting strong sales for just about any Apple (AAPL, Fortune 500) device, as well as the new Kindle Fire tablet from Amazon (AMZN, Fortune 500).
But the reduced outlooks from big chip companies and other component makers may be a sign that shoppers have a limited appetite for new gadgets.
That could be bad news for companies that the market already knows are struggling, such as TV seller Sony (SNE), BlackBerry and PlayBook maker Research in Motion (RIMM), PC manufacturer HP (HPQ, Fortune 500) and even some retailers like Best Buy (BBY, Fortune 500) and RadioShack (RSH, Fortune 500). All five of those stocks have been hit hard this year -- and the worst may not be over.
"The second half of year has been relatively subpar, and if retailers are not expecting strong sales into 2012, they will need just a bare minimum of products in stock," Acree said.
Exactly. Consumers may be resilient. But if the economy doesn't pick up substantially soon, I can't imagine that people will rush out to buy new tablets and TVs. Call it the geek-cession.
Best of StockTwits and reader comments of the week: Europe is "saved" for the 794th time and another software company is taken over. Same as it ever was.
robpas: The mere mention of Eurobonds is like a hint of a Justin Bieber appearance to nearby 12 year old girls, for markets
charlesrotblut: The news out of Europe shows signs of progress, but appears to be long on headlines and short on details.
What do the Biebs and European banks have in common? They both took huge haircuts this year. Rim shot please!
Mark4124NH: $BCSI was just taken out, $RVBD does what $BCSI does, but WAY better. Buy $RVBD.
TechStockRadar: Happy to see Blue Coat Systems getting taken out. Let's get Fortinet & Riverbed sold next.$BCSI$FTNT$RVBD
I've said it before and say it again. Not every small software company will get acquired. And Blue Coat (BCSI) may have been bought on the cheap because it isn't as good as Riverbed (RVBD). A private equity firm is buying it, after all. As for Fortinet (FTNT), IBM (IBM, Fortune 500) supposedly looked last year and passed. That should tell you something.
Now for the reader comments of the week. Yup. Plural. But there was only one winner. A person with the bizarre Twitter handle of @shameus_burp (who appears to be a Buffalo sports fan ... Mrs. Buzz will approve) has been belching hilarious comments about Europe this week. My two favorites:
"I solved Europe! Start printing Roman Denari, it's a Back To The Future recovery."
"Still waiting for Merkel to pull a Basel Fawlty and start shouting german prancing around the stage during a presser."
Very funny. Some think European leaders are acting like Nero and are fiddling while the EU burns. (Yes, I realize that is likely the ancient history equivalent of an urban legend.) As for Merkel, whatever you do, don't mention the war!
Or Eurobonds.
The opinions expressed in this commentary are solely those of Paul R. La Monica. Other than Time Warner, the parent of CNNMoney, and Abbott Laboratories, La Monica does not own positions in any individual stocks.