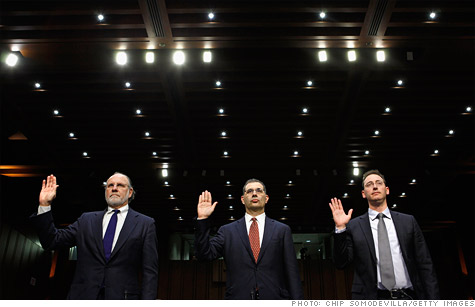 Jon Corzine (left) appears at a hearing of the Senate Agriculture Committee on Tuesday along with former colleagues from MF Global.
NEW YORK (CNNMoney) -- After hours of testimony from ex-MF Global CEO Jon Corzine on Capitol Hill Tuesday, the head of exchange operator CME Group "tossed a bomb," as one senator put it.
Terrence Duffy told lawmakers that MF Global had illegally transferred money out of customer accounts, and that Corzine himself had been aware of at least some transfers. (MF Global: Sorting through the debacle.)
But Duffy did not say explicitly that Corzine knew of any illegal transfers when they took place -- an allegation that could raise the specter of perjury charges for the former New Jersey governor.
Corzine, also a former senator, had repeatedly told the Senate Agriculture Committee earlier in the day that he had never authorized any misuse of customer funds and did not know how more than $1 billion of this money had gone missing.
Michigan Sen. Debbie Stabenow said Duffy had raised "a serious allegation ... regarding what Mr. Corzine may have known about customer accounts," and Duffy said CME had reported the information to the Department of Justice and federal regulators.
But Duffy's testimony raised more questions than it answered, and by the conclusion of the hearing, the precise nature of his potentially explosive allegations against Corzine remained unclear.
The final days: MF Global (MFGLQ) filed for bankruptcy on Oct. 31 after its disclosure of billions of dollars worth of risky bets on European government debt spooked investors. While the bankruptcy was the eighth largest in U.S. history, the real controversy came following revelations that customer funds were missing.
In the commodities business, customer funds are supposed to be sacrosanct, protected even in the event of a bankruptcy. Analysts believe the shortfall at MF Global came about when the firm unlawfully mixed customer money with its own to cover its obligations.
Corzine told the Senate Agriculture Committee on Tuesday that he had "no reason to believe" that customer funds had been misused until the night of Oct. 30, less than 24 hours before MF Global filed for bankruptcy.
But appearing in the panel after Corzine's, Duffy told the committee that MF Global had unlawfully transferred money out of customer accounts on Thursday, Oct. 27, and Friday, Oct. 28.
He added that a CME employee had been on a phone call in which an MF Global employee said Corzine "was aware of the loans that were being made" from customer accounts.
Questioned about what loans in particular were discussed on the phone call, Duffy said he was not 100% sure, but that he believed the conversation had focused on the transfer of $175 million worth of customer money to a European affiliate of MF Global made "in the last couple of days prior to bankruptcy." He did not specify whether he believed this particular transaction -- which was not necessarily illegal - had been improper.
Asked when Corzine allegedly became aware of the loans or if he personally authorized them, Duffy said he did not know.
At the time, MF Global was under severe pressure from trading partners and Corzine had been scrambling to sell the firm, but the revelations of the missing money scuttled any potential deal and forced the bankruptcy filing.
"I never directed anyone at MF Global to misuse customer funds," Corzine said Tuesday. "I never intended to, and as far as I'm concerned, I never gave instructions that anybody could misconstrue."
Was it illegal? A transfer out of customer accounts could be done legally, provided that a firm put up collateral that could be redeemed to make the accounts whole.
The fact that MF Global's customer funds remain missing six weeks after the bankruptcy, however, indicates that if the missing money were transferred out of customer accounts, the proper collateral was not in place.
Duffy, for his part, made clear that he believed MF Global had transferred customer funds illegally, though he did not specifically say Corzine had known of the alleged illegal transfers when they occurred.
"What happened here was somebody went in, violated the rules of the CME and violated the rules of the government and transferred out customer monies," Duffy said.
When asked whether he thought Corzine's testimony was consistent with his own, Duffy did not answer directly, saying only that he was "not aware." Both Duffy and Corzine were testifying under oath.
Earlier in the hearing, Sen. Kent Conrad asked Corzine whether he knew of an attempt ahead of the bankruptcy by staff at MF Global headquarters to collect on a $170 million loan to the firm's London affiliate, a transaction broadly similar to the one described by Duffy. Corzine said he had "no input on that," and would have to consult the firm's records for specific information.
A spokesman for Corzine declined to comment Wednesday. His lawyer, Andrew Levander, did not respond to a request for comment.
Because Corzine testified before Duffy, he did not get the chance to respond to the allegations, though the issue will likely take center stage when the House Financial Services Committee holds its own hearing on the issue Thursday. At the end of Tuesday's hearing, the Senate committee could only rue the fact that Duffy's allegations had not been aired earlier.
"Mr. Duffy, we've spent a lot of time here today," Sen. Pat Roberts said. "We probably should have had you on first."