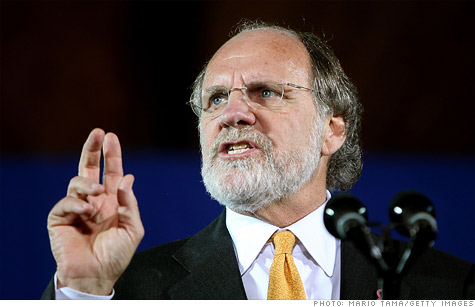 As the search for MF Global's missing money continues, former CEO Jon Corzine has been summoned to appear before Congress.
NEW YORK (CNNMoney) -- It's the $1.2 billion question: What happened to the customer money at MF Global?
That's what hundreds of accountants, regulators and federal officials are still trying to figure out in the aftermath of the brokerage firm's bankruptcy in late October. More than one month on, it's still unclear how much of their money customers will ever recover. (MF Global: Sorting through the debacle.)
Of $5.4 billion in customer funds, more than $1.2 billion may be missing, according to James Giddens, the trustee overseeing the brokerage's liquidation. While that's still an estimate, a shortfall of some kind is all but certain, Giddens told Congress last week.
The case -- the eighth-largest bankruptcy in U.S. history -- has shaken faith in the markets and put business on hold for many owners of the roughly 38,000 securities and commodities trading accounts at the firm, from big-city traders to heartland farmers.
Giddens is part of a small army of professionals sorting through the MF Global's books and looking for the money: a staff of around a dozen lawyers and paralegals from Giddens' law firm, Hughes Hubbard & Reed; 100 consultants from Deloitte; 60 accountants from Ernst & Young; and 190 ex-MF Global staffers hired temporarily to help in the clean up.
The task has been made significantly more difficult by the poor quality of the firm's bookkeeping, said Kent Jarrell, a spokesman for Giddens.
"The record-keeping was bad," Jarrell said. "In many cases, there were no records of transactions that were done at the end because there was so much activity."
And even when there are records to work with, they may not always be reliable, said Jim Ashe, a forensic accountant at Marcum. For that reason, Giddens and his staff will have to go through the tedious process of verifying transactions and making sure that the records are accurate, said Ashe, who is not involved in the MF Global case.
Where the missing money ended up is still anyone's guess, but the longer this question remains unanswered, the worse it looks for MF Global (MFGLQ).
"If this had been simply an accident where the money had been put in a wrong account, that should have been discovered by now," said Ed Ketz, an accounting professor at Penn State University. He said that leaves two possibilities: Either MF Global had "extremely poor accounting controls" and is unable to track down the money, or the funds were unlawfully appropriated.
In the latter scenario, staff from MF Global could potentially face criminal charges, and the FBI is now investigating the case. Regulators from the Securities and Exchange Commission and the Commodity Futures Trading Commission are also conducting their own investigations.
And Congress is getting involved. Former MF Global CEO and New Jersey governor Jon Corzine has been called to testify before lawmakers starting this week.
No one at MF Global has been accused of wrongdoing. A spokeswoman for MF Global referred questions back to the trustee's office.
Giddens is hoping to transfer roughly two thirds of what should have been in customer accounts by the end of the year, a move he has said will exhaust nearly all of the assets currently under his control.
Investigators will attempt to trace the path of the missing money out of MF Global, but are sure to come up against dead ends and will likely be unable to recover all of it, Ashe said. Some of the money may now be in accounts abroad, particularly in the United Kingdom, making recovery more difficult, Jarrell said.
If their accounts still haven't been made whole by the end of the search, customers will have to join the firms' other creditors -- trading partners, former employees and so on -- and file claims that will be settled in bankruptcy court.
All this adds up to a lengthy legal process ahead, one that could last years.
"These things do take time, unfortunately," Jarrell said.