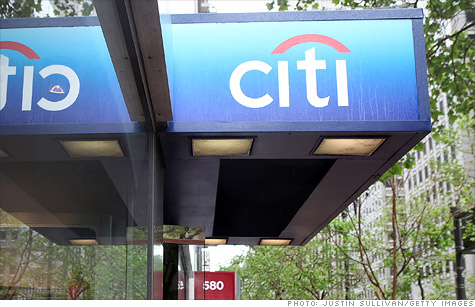 The SEC wants to reinstate a $285 million fraud settlement that it reached with Citigroup that was tossed out by a federal judge last month.
NEW YORK (CNNMoney) -- The Securities and Exchange Commission is appealing a federal judge's decision last month to toss out a proposed $285 million mortgage securities fraud settlement between the agency and Citigroup.
Federal judge Jed Rakoff ruled on Nov. 28 that the deal between the SEC and Citi was "neither fair, nor reasonable, nor adequate, nor in the public interest" and ordered the case to proceed to trial in July 2012.
He said that the settlement announced in October, under which Citigroup (C, Fortune 500) neither admitted nor denied the SEC's allegations, deprived the public "of ever knowing the truth in a matter of obvious public importance."
The SEC argued in a statement Thursday that the ruling "inadvertently harms investors by depriving them of substantial, certain and immediate benefits."
"We believe the court was incorrect in requiring an admission of facts -- or a trial -- as a condition of approving a proposed consent judgment," said the agency. It argued Rakoff's ruling would set a new standard for settlements that would be difficult to reach and that it is at odds with established practice.
"Courts have routinely approved settlements in which a defendant does not admit or even expressly denies liability, exactly because of the benefits that settlements provide," said the agency.
The SEC said the $285 million proposed settlement, "while less than investor losses, represents most of the total monetary recovery that the SEC itself could have sought at trial. An SEC settlement does not limit the ability of injured investors to pursue claims for additional relief."
Rakoff said in his ruling that given the damage done to financial markets by the alleged actions by Citigroup, a greater level of transparency is needed.
"[I]n any case like this that touches on the transparency of financial markets whose gyrations have so depressed our economy and debilitated our lives, there is an overriding public interest in knowing the truth," Rakoff, a U.S. district judge in Manhattan, wrote in his decision.
The SEC's pattern of allowing big banks to reach settlements without admitting or denying wrongdoing, Rakoff added, has been "hallowed by history, but not by reason."
Citigroup did not have an immediate reaction to the SEC's appeal. At the time of Rakoff's ruling, a spokeswoman for the banking giant said it respectfully disagreed with the decision.
"In the event the case is tried, we would present substantial factual and legal defenses to the charges," she added.
The SEC alleged that in 2007, Citi created and sold a mortgage-related collaterialized debt obligation, or CDO, called Class V Funding III.
According to the SEC complaint, one CDO trader characterized the asset group in internal communications as "a collection of dogshit" and "possibly the best short EVER!"
In marketing materials, however, the assets were described as "attractive investments rigorously selected by an independent investment adviser," Rakoff's decision said.
After marketing the CDO, Citi then took a short position -- or bet against -- the security as the housing market deteriorated, bringing in a net profit of $160 million for the bank. Meanwhile, investors lost more than $700 million.
The SEC has settled a string of similar complaints in recent months, including agreements with Goldman Sachs (GS, Fortune 500) and JPMorgan Chase (JPM, Fortune 500).
Rakoff, though, has been a thorn in the agency's side in recent years, rejecting a proposed $33 million settlement in 2009 between the SEC and Bank of America (BAC, Fortune 500) over allegations that BofA lied about bonuses for Merrill Lynch & Co. employees following the firms' merger.
That settlement was later revised upward to $150 million, which Rakoff reluctantly approved, calling it "half-baked justice at its best."
Shares of Citi (C, Fortune 500) closed down 0.5% in trading Thursday.