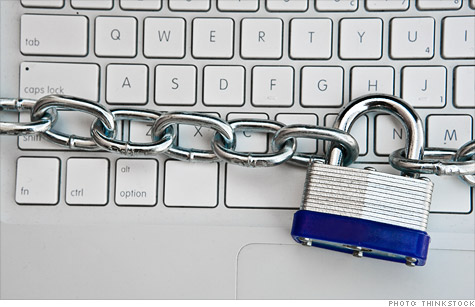 Storing data off site is one way small business owners can avoid technology disasters.
NEW YORK (CNNMoney) -- Like taxes and regulations, technology can prove to be a real nightmare for small businesses. In fact, a recent study by online backup provider Carbonite found that 48 percent of American small businesses with between two and 20 employees experienced data loss this year, up from 42 percent in 2010.
Causes may range from hardware glitches and software failures to theft and computer viruses but the results are always the same: lost revenue, unrecoverable data, disgruntled customers, and a costly cleanup.
"Small business owners work week to week, month to month, trying to make payroll in a difficult economy so technology disaster prevention often goes to the bottom of the list," said Rowan Trollope, group president of SMB at Internet security company Symantec. (SYMC, Fortune 500) "But things can go wrong, and when they do, you're going to be kicking yourself."
Fortunately, it's easier than you think to disaster-proof your small business. Here's how:
Up, up, and away: Storing your applications off-premise is an excellent way to safeguard against data theft. These days, tech giants like Amazon, (AMZN, Fortune 500) Microsoft (MSFT, Fortune 500) and Google (GOOG, Fortune 500) all offer cloud-based services that let businesses store data remotely without requiring the installation of costly storage servers. Users can access and manage their data from a Web-based dashboard, and add and subtract storage capacity on an as-needed basis for greater cost efficiency.
But that's not all. With a cloud-based storage system, "small businesses no longer have to maintain and manage their infrastructure," said Trollope of Symantec's EndPoint Protection.cloud technology. "That's all moved into the cloud so they can just connect to the Web console. We take care of the software updates and maintaining the systems."
Despite these benefits, Greg Schulz, founder of security consultancy Server and StorageIO Group, warns that "the cloud can both help you and hurt you." It's not uncommon for cloud outages to occur -- glitches caused by everything from maintenance tasks to lightning bolts that can cause lengthy disruptions in cloud service. For this reason, Schulz recommends that "anything you send to a cloud provider, you should also have a master copy on hand that's a week old. Anything very critical that's offsite should also be onsite."
Master of your machine: Once reserved for large enterprises, network-attached storage (NAS) devices are becoming increasingly commonplace among small businesses -- for good reason.
Not only are they more "affordable" these days but many NAS systems are so easy to use that, according to Schulz, "a network administrator who's also taking care of the photocopying machine can procure it, install it and manage it, and then watch it run by itself."
Perfect for sharing storage across multiple devices, NAS technology works by offering file-based data storage across an entire network from a single, centralized repository. Relying on these self-contained units, users can back up data and share files with the click of a button.
Nevertheless, a NAS drive can fail. However, selecting a unit that holds more than one hard drive will provide redundancy -- safeguarding one good copy of your files should one of the drives fail -- for greater data protection.
Ask for assistance: By now, "everybody knows that you need anti-virus and anti-malware on your desktop," warns Trollope. But not all small business owners are intimately familiar with their IT environments. In fact, oftentimes an IT manager is the same guy who processes payroll. That's where a consultant comes in handy.
"A consultant has a lot of experience in multiple environments," said Bob Gaines, a security expert with IT services company All Covered. And it's precisely that breadth of knowledge that Gaines says can help a small business identify security holes and other looming dangers before it's too late.
To be sure, a consultant's input may be out of financial reach for some small businesses. But there's a far higher price to pay for not being prepared for a tech disaster. "We live in dangerous times," said Trollope. "The Internet itself is not secure -- that's just a fact of life."