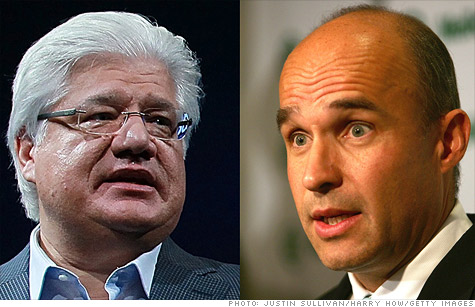 Research In Motion co-CEOs Mike Lazaridis (left) and Jim Balsillie are on the hot seat.
NEW YORK (CNNMoney) -- When she stepped down as CEO of eBay (EBAY, Fortune 500) in early 2008 after a decade, Meg Whitman said it was time for a new voice at the ecommerce company.
"I have repeatedly said that 10 years was about the right amount of time for any CEO to stay at the helm of a company," Whitman said at the time.
With eBay's stock beginning to slide and earnings flat-lining, Whitman knew it was time for alternative ideas. John Donahoe, Whitman's successor, implemented a successful transition at the company by overhauling its pricing structure and shaking up management. It took time and some grumbling from customers, but the process revived the company's stock and earnings growth, much to investors' delight.
There's a potential lesson there for Research In Motion (RIMM).
It has been a truly horrifying 2011 for RIM. Multiple product delays, underwhelming sales, massive outages and public relations embarrassments have battered the company's earnings, stock, and share of the smartphone market.
Yet the company's long-serving co-CEOs, Mike Lazaridis and Jim Balsillie, continue to cling to their stay-the-course mantra. They maintain that they have a strategy in place, and that they're the best people to lead the company through its current mess.
The co-CEOs had a long, long run of success. Lazaridis, at RIM's helm for 27 years, and Balsillie, who has shared that role for 19, introduced the revolutionary BlackBerry to the world in 1999. The product took the corporate world by storm, and 10 years later, in 2009, the BlackBerry brand controlled a 20% share of the world's smartphone market, according to IDC. In the U.S. market, its share was a dominant 43%, according to comScore.
But that success has run right into a brick wall. Consumers gravitated toward feature-rich iPhones and Android devices, and RIM's product development fell far behind its rivals'.
Today, BlackBerry maintains just 10% of the global market and 19% of the United States'.
Lazaridis and Balsillie say they have a strategy to get RIM out of its current quagmire. They have transitioned the company's software to the more modern BlackBerry OS 7 and, next year, BlackBerry OS 10 will become RIM's unified tablet and smartphone platform.
But the execution of the transition has been disastrous. BB7 devices were severely delayed in getting to market. They finally hit stores in August, and have undersold the company's expectations ever since. The also-delayed PlayBook tablet debuted this year, but without key features like built-in e-mail, contacts and a calendar. The software fix to add those apps has been delayed until 2012.
The company's revitalization efforts weren't helped by a three-day global outage -- the longest in RIM's history. Recently, RIM's bad news took a turn for the weird: Two executives (now former executives) got so drunk on a flight to China that they had to be restrained while the flight turned back to kick them off. The out-of-control flyers apparently chewed through their restraints.
Investors aren't laughing: Shares have fallen 76% this year.
Analysts say it's time for RIM to bring in new ideas.
"What's clear is if RIM keeps doing the same things, it's not going to get better," said Mark Mckechnie, analyst at Gleacher & Co. "RIM's leadership missed the market's strategic inflection point. When everyone began supporting rich media on their devices, they just stuck to their guns."
Some shareholders have called for Lazaridis and Balsillie's heads, but the board -- led by the co-CEOs -- has been resistant.
"I think to some extent RIM is still in denial when it comes to the shortcomings in their offering," said Carolina Milanesi, research director at Gartner. "Investors want to see a change, and new leadership is usually what investors take as a serious attempt to change."
Milanesi said it's understandable that Lazaridis wouldn't want to let go of the company he founded, but a new voice is needed in some form. She suggested that someone new could fill the role of chief information officer while Lazaridis stays on as CEO.
Others say that, as with recent shakeups at Hewlett-Packard (HPQ, Fortune 500), Yahoo (YHOO, Fortune 500), Avon (AVP, Fortune 500) and Nokia (NOK), leadership at the very top needs to go in order to bring about real, necessary change.
"RIM's leadership team must take responsibility for -- and ownership of -- the difficulties the company has experienced during 2011," said Declan Longeran, analyst at Yankee Group. He criticized the company's "complacency at the top."
Tole Hart, an independent analyst, suggested that an outsider would make the most sense to take over as CEO. He said the new leader should come from a company like Apple (AAPL, Fortune 500), Google (GOOG, Fortune 500), Microsoft (MSFT, Fortune 500), Samsung, or Motorola (MMI), all of which have adapted and moved to the forefront of the smartphone revolution.
Another camp of analysts says vision isn't the problem. Execution is. BB10, by all accounts, will be a much more modern operating system.
"This is probably the worst time for new leadership at RIM," said Ramon Lamas, analyst at IDC. "The company's in the middle of a huge transition. If you have CEOs that are manning the helm to guide company through rough waters, why would you want to change that?"
RIM, which will report its financial results Thursday after the markets' close, declined to comment for this story.
RIM already warned investors that the numbers won't be pretty. You know who those shareholders are going to blame if RIM keeps offering up more of the same.