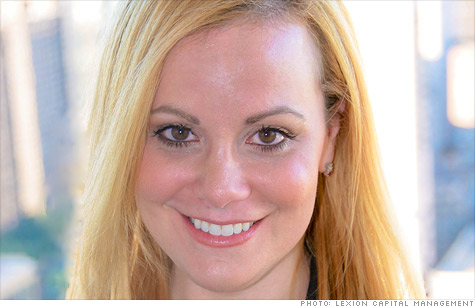 Elle Kaplan struck gold when she started managing women's money.
NEW YORK (CNN Money) -- In a post-Bernie Madoff world where investment advising has made investors wary, Elle Kaplan spotted a gold mine.
Kaplan, who has worked many years in investment banking and private banking, decided she'd create a firm that didn't charge hidden fees or excessive broker fees like some "fast-talking slick salesmen" on Wall Street.
In October 2010, within one month of starting Lexion Capital Management in Manhattan, Kaplan, 36, achieved $1 million in assets. Former clients at firms where she once worked came on board immediately. "I didn't expect it to be successful this quickly. It felt gratifying because I had worked hard to create a place that was worthy of them."
First, she had to overcome suspicions about money managers.
"People, especially in New York, were still reeling, because of the mortgage scandals and the fraud perpetuated by Bernie Madoff," Kaplan said. "I handled it by putting a slide in our presentation: 'How do you know we're not the next Madoff?' "
Eric Donner, a financial adviser at Rubin Wealth Advisors in South Florida added: "Clients are so uncertain right now. They've been placed into products and programs without the advice. " Donner, who ran his own firm on Wall Street for 25 years, said that investors "desperately need help -- but qualified help."
As a fee-only money manager, clients sign a power-of-attorney agreement that gives Kaplan authority to trade accounts -- yet she can't withdraw any of the money. "If everyone did that, no one would have to worry," she said. Having the authority to trade and withdraw money should never be mixed, she said. "It's like oil and water," she said.
Not tied to a firm, Kaplan can also remain neutral. "As an independent money-management manager, I'm not married to a set of funds. I can go to whatever's best," she said.
Investors no longer feel that going with a large bank means their money is secure. "The dissatisfaction and the scandals have made my job easier," she said.
Clients must have a minimum of $500,000 to play with, much less than most firms. About 15 years ago, Kaplan's mother unexpectedly became a widow, and consequently fumbled through money issues. Inspired by her mother's experience, Kaplan caters to female clients in life transitions. "I wanted to create a place that was worthy of my mom -- someone who is vulnerable and overwhelmed by the process," she said.
"She's a very accessible person," said Kathleen Peratis, an employment lawyer in New York City and one of Kaplan's clients. "She's especially good with women. Women are taking more control of their finances."
Maybe it's because Kaplan experienced her own set of transitions. In the late '90s, after graduating from the University of Michigan with bachelor's degrees in English and chemistry, she moved to New York City without a job lined up. She cold-called Wall Street firms about job openings until she snagged one.
"As a woman from the Midwest, Wall Street was kind of mystical to me," she explained. By now her resume reveals no trace of those humble beginnings: positions in London, Chicago and New York City in investment banking, private banking and on the trading floor. Kaplan also earned an executive MBA (finance) from Columbia Business School.
Alexandra Lebenthal, a wealth manager who launched Lebenthal & Company in New York City in 2006, and wrote "The Resessionistas," a 2010 novel about socialites in her city grappling with the recession, agreed there is a difference between how men and women interact with clients.
Like Kaplan, she sees opportunity: "So many clients are disenchanted with the big firms. A lot of people have put out their own shingles. At the end of the day, there's no better way to market to women than when you have a woman running the business."
Donner admitted it's hard for most men to be sympathetic to women's financial matters. "Men are not comfortable when a woman starts crying in the office because her husband left her three years ago and she's just now finding the courage to manage her finances," he said.
Kaplan is so passionate about women and finance that she's already talking to the next generation about it. She volunteers at high schools in the Tri-State area, speaking with teenage girls about careers in finance. "Of senior Wall Street positions, only eight percent are filled by women," she said. "I'm out there every day fighting that."