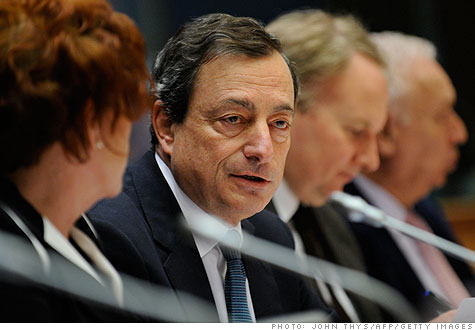 ECB President Mario Draghi at the European Parliament Monday. He dismissed the idea of a euro breakup.
NEW YORK (CNNMoney) -- European Central Bank President Mario Draghi dismissed the idea that the euro currency could break up, even as the ECB issued a report about the rising contagion risks posed by the sovereign debt crisis.
Draghi, appearing before the European Parliament Monday, said that the next year will be a painful one for European banks and the broader economy. But he said it was simply "morbid speculation" to talk about the break up of the euro.
"I have no doubt whatsoever about the strength of the euro, about its permanence, about its irreversibility," he said. "The one currency is irreversible."
Draghi said many people outside the euro area spend a lot of time speculating about what would happen if the euro were to break up. "And they all have catastrophic scenarios for the euro area," he said.
The euro was up 0.2% versus the dollar in trading Monday following the remarks.
Still he did not deny there would be problems for the European banking system from the current sovereign debt crisis. He said banks are experiencing significant funding constraints that will only get tougher throughout the year, especially in the first quarter of 2012.
Draghi's remarks followed the release of the ECB's semi-annual report on economic risks. That report discussed the rising contagion risk posed by the European debt crisis.
"Ultimately, the transmission of tensions among sovereigns, across banks and between the two intensified to take on systemic crisis proportions not witnessed since the collapse of Lehman Brothers three years ago," the ECB said in the report.
The ECB added that "further intensification of contagion" between the troubled debt of various European countries is the greatest risk to the broader economy.