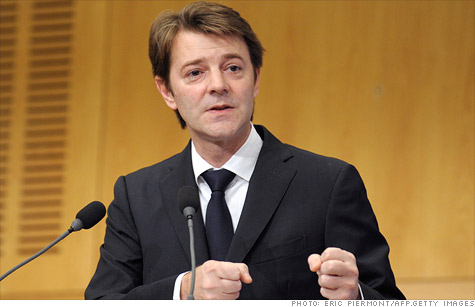 French Finance Minister Francois Baroin, seen here at a conference in November, has said repeatedly that his nation will maintain its AAA credit rating.
NEW YORK (CNNMoney) -- There's a good chance France and a few other euro area governments will have their credit ratings downgraded in the near future.
That would mark another low point in Europe's long-running debt crisis, but it may not shock the markets.
"The downgrades are likely to come sooner rather than later," said Ewen Cameron Watt, chief investment strategist for the BlackRock Investment Institute. "But we believe bond markets have largely factored them in for countries such as France, Italy and Spain."
While the bond market may be prepared, the immediate response could be less sanguine in the stock market, where investors have been primed to sell anytime a rating agency makes a move.
Credit rating agencies' warnings or downgrades were behind six major drops in the stock market this year, notes Christian Schulz, a senior economist at Berenberg Bank.
But the sell-offs "were almost always followed by a rally shortly thereafter as the downgrades often triggered positive political action," he added.
Standard & Poor's set the rumor mill in motion earlier this month when it put 15 members of the euro currency bloc on review for a downgrade, including top-rated Germany and France. The agency said it would conclude its review shortly after the latest summit of European Union leaders, which took place on Dec. 9.
Investors still see Germany, one of Europe's largest economies, as an unlikely candidate for a downgrade, although a lackluster auction of German bunds last month did raise red flags.
Among the six top-rated nations under review by S&P, investors see Austria and France as the most likely victims.
The odds makers at Intrade, an online prediction market, are pricing in a 71% chance that France will be downgraded within the next 6 months. But reports in the French financial press suggest a downgrade could come as soon as Friday night.
Despite the widespread speculation about a French downgrade, Fitch on Friday affirmed its AAA rating on France's long-term debt. In a seemingly contradictory move, the ratings agency also revised its outlook for the nation's rating to 'negative' from 'stable.'
Fitch said France's credit rating is underpinned by "its wealthy and diversified economy," among other assets. But it warned that France could face significant "contingent liabilities" if the debt crisis continues to worsen.
In particular, France is the second-largest backer of the European Financial Stability Facility. That means the nation could be on the hook for up to €89 billion if another euro area nation, such as Italy, needs to be bailed out.
The biggest threat posed by a downgrade of France or another AAA-rated eurozone nation would be the impact on the EFSF, said Tobias Blattner, an economist specializing in the euro area at Daiwa Capital Markets in London.
The EFSF, a government-backed bailout fund, was also placed on review by S&P this month. The fund could see its AAA rating cut if the nations that guarantee its funds are downgraded.
Investors are worried about the exposure many big French banks have to debt issued by Greece, Italy and Spain. The concern is that the French government may have to pump billions of euros into the banks to prevent them from collapsing.
Beyond its liabilities, France has been suffering from an economic malaise that could make it difficult for the government to raise revenue.
On Thursday, the French national statistics office predicted that the nation's economy is already in a recession. Insee said it expects the French economy to shrink 0.2% in the current quarter and 0.1% in the first quarter of next year.
French officials have said that they will defend the nation's prized AAA credit rating. But the warning from S&P has led to some finger pointing in Paris.
Christian Noyer, governor of the Banque de France, suggested in an interview Thursday that S&P should look elsewhere for a downgrade.
"They should start by downgrading the U.K. which has a bigger deficit, as much debt, more inflation, less growth than us," Noyer told Le Telegramme. "Their credit is collapsing."
In addition to France, analysts say Austria is also at risk of losing its AAA rating.
Investors are concerned that the Austrian government may need to rescue Austrian banks, which are exposed to weak banks in central and eastern European countries.