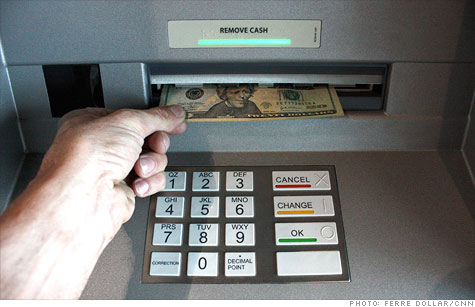 One company is launching a fee-free ATM. The catch: You'll have to watch a commercial while your transaction processes.
NEW YORK (CNNMoney) -- Starting next year, you may be able to visit a non-bank ATM without having to fork over a fistful of dollars in fees. There is one catch, however: you'll have to watch a commercial while you wait.
Free ATMs NYC, which was founded by 25-year-old Clinton Townsend, began testing a fee-free ATM in Brooklyn last month and plans to launch several thousand of the advertiser-funded ATMs throughout the country by the end of next year.
And, if this small company proves successful, experts in the industry think the idea could catch on at a much bigger scale, potentially changing the ATM landscape.
Free ATMs NYC has already signed on two advertisers and is in talks with some advertising firms and several national companies, according to Townsend. These advertisers would, in essence, cover the fee that ATMs normally charge, saving consumers a lot of money.
Americans have spent about $4 billion on fees charged at non-bank ATMs this year, paying an average of $2.10 for each transaction, according to TowerGroup.
One caveat, however, is that Free ATMs NYC can't stop the bank you belong to from charging you an out-of-network fee, which average about $1.25 a pop.
How it works: Townsend plans to put the ATMs in cafes, supermarkets, hotels, bars and malls where banks aren't conveniently located nearby.
Up to six companies can advertise on each ATM at a given time, and ads are shown before, during and after each transaction.
Some of the ATMs he plans to launch over the next year will have an additional screen above the ATM, where a 24-hour stream of video advertisements will play, and every ATM will constantly feature a slideshow of ads on the regular display screen. While your transaction is processing, a 15- to 20-second slideshow of ads shows up on the display screen. (Townsend said these ads won't prolong the time it takes to conduct a transaction.) Then, when your transaction is complete, a coupon is printed on your receipt.
The ATMs launching next year will also allow consumers to opt out of watching the ad and pay the traditional fee.
The first ATM is being tested at the Knitting Factory, a concert venue and bar in Brooklyn. Townsend said he is still gathering data on the number of transactions that have been made on the ATM and plans to reveal the findings closer to launch in order to give advertisers a better idea of potential reach and usage.
"You can advertise on billboards, phone booths, cup holders, wherever you want, but you can't track how many people have actually seen that ad," Townsend said. "With our service, we can say this is the amount of people who have for sure seen these advertisements, because they're shown during every transaction."
Townsend said he will charge advertisers a flat monthly fee. And while he is keeping the company's advertising rates under wraps for now, he said the rates will be comparable to other forms of local advertising, such as newspapers.
An ATM revolution: If the launch this winter proves successful, others are sure to follow, said Nicole Sturgill, a research director at consulting firm TowerGroup.
Sturgill said that the ATMs owned by independent sales organizations (ISOs) -- which include many of the stand-alone machines you see in convenience stores and supermarkets -- make up about half of the ATMs in the country (the other half are bank-affiliated ATMs) and could stand to profit from a more consumer-friendly ATM model.
"[I]f they prove to advertisers that there's money to be made, you would see ISOs change their model," she said.
For consumers who worry about switching from their big banks to a smaller community bank or credit union for fear of a lack of in-network ATMs, this could be a deciding factor -- even though most community banks and credit unions reimburse customers for ATM fees anyway.
"If we see these free ATMs really catching on, I think they could absolutely help free up consumers to make the switch, because [consumers] won't be worrying about how much money they're going to spend on ATM fees when they change banks," she said.
And while customers at banks like Bank of America and Chase won't stop going to their own branches when they have the option, these big banks could potentially lose some of the extra business they currently get from non-customers, said Greg McBride, senior financial analyst for Bankrate.com.
"If [the free ATM] catches on, and if the business model proves sustainable, it could eat into the revenue banks get from ATM fees," he said.