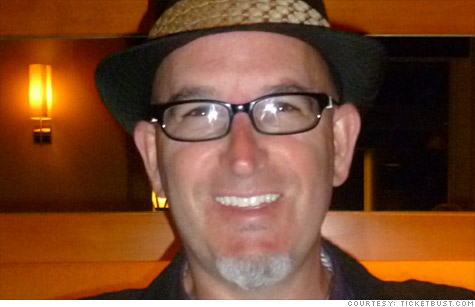 Steve Miller found a way to get speeding tickets and other violations easily dismissed. Now he has a booming business.
NEW YORK (CNNMoney) -- Steve Miller's first instinct was to heckle his brother about his speeding ticket.
But then he saw a business opportunity in his brother's reckless-driving habit. In California, a process called "trial by written declaration" makes it easier to get a speeding ticket dismissed or the charge reduced. And it can be done without a court date.
The "trial by written declaration" is on the back of every ticket, but few people notice it, said Miller. "We really took something that anybody can do themselves and built a business around it," said Miller, 46.
TicketBust.com coaches California drivers in this little-known method to fight traffic infractions, such as speeding tickets, sign violations and blowing red lights.
Miller's enthusiasm for the business idea grew after his brother, through the "trial by written declaration" process, was found not guilty.
In 2004, he launched TicketBust.com in Westlake Village, Calif., as a one-man operation. Today, the company has 10 employees. Customers e-mail TicketBust.com details about their ticket. Then they send the company three signed copies of the Trial by Declaration form and pay $249 to have those forms mailed to the judge or another officer of the court. They also receive a copy of Miller's book: "Traffic Tickets: Don't Get Mad. Get Them Dismissed." There is a money-back guarantee that the ticket will either be reduced or dismissed.
Customers can also opt to purchase the book and do the process on their own.
In October of 2010, TicketBust.com passed over the $1 million in revenue mark. "One of our goals was to hit that mark. It was a feeling that you've achieved something, and now you need to set a new goal," he said. "In 2012, we plan to add another four or five employees."
Miller -- who serves as president and CEO -- had zero competitors when he launched TicketBust.com. Today, there are six. "It's really exploded in the last few years," he said. "There was nobody in California doing this at the time we started."
He is constantly trying to stay ahead of competing companies. He launched a free iPhone and Android app that allows customers to take a photo of the ticket, fill out a brief form and sign up with TicketBust.com. Only his company offers this perk.
He also beefed up his website. He has lots of dot-com experience, including running MediaHipp, an interactive agency with 70 programmers. He also heads up Tier3 Technologies, an IT-services company. "That gave me a lot of knowledge in how to put together a good website," said Miller.
Hollywood stuntman Thomas Bruggeman -- he's appeared in "Gone in 60 Seconds" and "Enemy of the State" -- was initially suspicious when he heard about TIcketBust.com. Still, he intended to battle his $395 ticket for allegedly going 85 miles per hour in a 65-miles-per-hour zone. TicketBust.com's extensive paperwork only fueled his concerns. "I called them up, told them it was B.S. and asked to speak with the president," he said. "We had a good talk." In the end, Bruggeman decided to try the service, and his ticket was dismissed. He also saved money. "If I hired a lawyer to fight it, it would have cost me $800," he said.
Only nine percent of tickets are actually contested, Miller said. But that is quickly changing. By November, Miller estimated that TicketBust.com had worked on 38,000 cases. "The court likes it because it eliminates their court time and the courts are very full right now with cases that are backed up by months," said Miller. "There will always be traffic tickets. In this economy, our business has gone up, because people do not want to pay their tickets. People are more frugal about where they put their money."
Steven Lubell, a judge who sat on the bench for 11 years in Los Angeles Superior Court before retiring in March 2010, said some traffic tickets are issued in error, or for one-time mistakes: "A lot of municipalities get it wrong and calling attention to it is a good thing," said Lubell. "People make mistakes. People run a red light or go through a stop sign.
However, for repeat offenders, services like TicketBust.com might only enable the speeder, Lubell said. "If they're getting away with what they're doing and doing it again, that's not a good thing. If they're getting caught that many times, their traffic behavior needs to be reviewed."