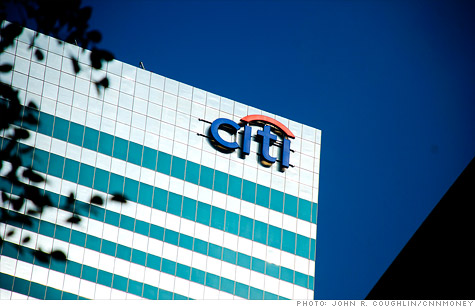 The SEC has accused Citigroup of deceiving investors about the quality of mortgage-related securities it sold them.
NEW YORK (CNNMoney) -- A federal appeals court has delayed proceedings in a mortgage securities fraud case brought by the Securities and Exchange Commission against Citigroup.
The delay came at the request of the SEC after a lower court rejected its proposed settlement in the case last month, a decision the agency has appealed.
The SEC is upset that Jed Rakoff, a U.S. district judge in Manhattan, threw out its proposed $285 million settlement with Citi (C, Fortune 500) over allegations that the bank deceived investors about the quality of mortgage-related securities it sold them.

Under the terms of the proposed settlement, Citi neither admitted nor denied the allegations, which Rakoff said deprived the public "of ever knowing the truth in a matter of obvious public importance." He therefore rejected the settlement and ordered that the SEC's original complaint against Citi, filed in October, move ahead.

The SEC, however, has appealed Rakoff's decision, claiming that the settlement will save time for it to pursue other cases and "reasonably reflects the scope of relief that would be obtained after a successful trial."
Should this appeal be successful, the settlement could be reinstated and the original case against Citi would not need to move forward. Therefore, the SEC wants proceedings in the original case delayed while its appeal against Rakoff's decision is still pending.
In a decision issued Tuesday, the U.S. Court of Appeals for the Second Circuit authorized such a temporary delay until a panel convenes to consider the matter further. This panel, which will begin deliberations on Jan. 17, will then make a decision on whether to delay the case against Citi indefinitely pending the outcome of the SEC's appeal.

The SEC declined to comment further on the case Wednesday. Citi spokeswoman Danielle Romero-Apsilos said the bank had no comment on the delay but was prepared to fight the charges should the case go to trial, which Rakoff had ordered occur in July 2012.

The SEC has alleged that in 2007, Citi created and sold a mortgage-related collateralized debt obligation, or CDO, called Class V Funding III.

According to the SEC complaint, one CDO trader characterized the asset group in internal communications as "a collection of dogshit" and "possibly the best short EVER!" In marketing materials, however, the assets were described as "attractive investments rigorously selected by an independent investment adviser," according to Rakoff's November decision.

After marketing the CDO, Citi allegedly then took a short position -- or bet against -- the security as the housing market deteriorated, bringing in a net profit of $160 million for the bank. Investors, meanwhile, lost more than $700 million.
Litigation is also pending against Brian Stoker, the Citi employee alleged to have been primarily responsible for structuring the CDO.