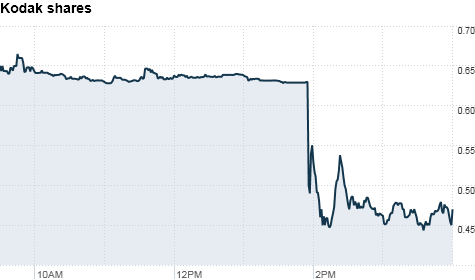 Click the chart for more info.
NEW YORK (CNNMoney) -- Shares of Kodak finished sharply lower Wednesday following a report that the company was preparing for a possible bankruptcy filing.
Kodak shares, which have already dropped over 90% in the past year, closed down 28% yesterday afternoon after the Wall Street Journal reported that the company was preparing for a bankruptcy filing in case an attempt to sell a number of digital patents fails.
The report, which cited anonymous sources, came a day after Kodak (EK, Fortune 500) disclosed that the New York Stock Exchange had warned that it could be delisted in six months if its struggling stock price does not recover. The warning was triggered by the fact that the stock's average closing price has been less than $1 per share for thirty consecutive trading days.
A Kodak spokesman said the company does not comment on "market rumors or speculation."
In September, Kodak shares plunged following reports that it was considering bankruptcy, though they recovered after the firm denied those rumors.
At the time, Kodak was already struggling after rating agency Moody's downgraded several Kodak debt securities, pushing Kodak even deeper into "junk" status. Fitch followed up with its own downgrade.
Kodak has suffered massively from photography's transition from film to digital. In September it announced that it needed to tap $160 million from a pre-existing $400 million credit line. Just over a month later, the company warned that it could run out of cash if it fails to sell a number of its patents, raise additional capital or borrow more money.
Kodak announced in July that it was exploring the sale of more than 1,100 patents tied to digital imaging. Analysts said last year that the deal could generate as much as $3 billion.
Tech giants have been spending big bucks to arm themselves with patents. A group led by Apple (APPL) and Microsoft (MSFT, Fortune 500) paid $4.5 billion for patents from bankrupt Canadian networking equipment firm Nortel in July.
Not to be outdone, Google (GOOG, Fortune 500) agreed to buy smartphone maker Motorola Mobility (MMI) for a whopping $12.5 billion in August. The deal's catalyst was Google's desire to get its hands on Motorola's patents.