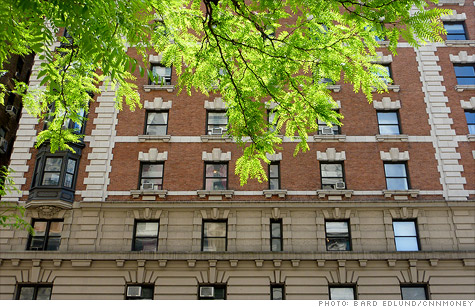 Manhattan real estate prices fell significantly during the last quarter of 2011.
NEW YORK (CNNMoney) -- Despite a number of multi-million dollar home sales, including a record-setting $88 million penthouse deal in December, Manhattan real estate prices fell significantly during the final months of 2011.
The median price paid for a condo or co-op in the nation's most expensive housing market fell to $855,000 during the last three months of 2011, down 6% from the $911,333 three months earlier, according to Prudential Douglas Elliman.
Corcoran Group, another prominent broker in the New York metro area, reported a similar percentage drop in median prices, while Greg Heym, who analyzes sales data for brokers Brown, Harris Stevens and Halstead Property, said the decline in prices was closer to 8%. Corcoran reported a median sale price of $795,000. The two other brokers reported a median sale price of $785,000.
"If there was any weakness in the market, it was in the middle end," said Dottie Herman, CEO of Prudential Douglas Elliman.
Getting a mortgage was tough for buyers looking at homes in the million-dollar price range, she said. Many of these potential buyers didn't qualify for government-backed loans and they also had a hard time landing jumbo loans because lending is still tight.
Lack of condo supply was also an issue, said Pam Liebman, CEO of the Corcoran Group. Many buyers found it hard to find the size and quality residence they were looking for in their price range.
"[W]hat I hear from my agents is 'We need more product,'" she said.
Fewer condos have been coming onto the market as builders slowed development during the housing bust, said Ramirez.
The slowdown in condo sales, which historically command higher prices than co-ops, has weighed on overall prices. In the latest quarter, condos fell to 40% of all sales, down from 46% in the third quarter. Total sales volume also dropped significantly, falling 35% from the third quarter and 12% from the same quarter in 2010.
In fact, the only segment of the market that appeared to be thriving during the last three months of 2011 was the high end, said Liebman. "So many people want to live in a select group of buildings."
Demand for Sandy Weill's four-bedroom penthouse apartment, for example, helped the ex-head of Citigroup (C, Fortune 500) fetch $88 million, twice what he paid for it just four years ago, she said.
Other recent blockbuster sales included a three-bedroom apartment in the same building for $24 million; a three-bedroom duplex of 3,100-square-feet on Union Square for $11.5 million; and a four-bedroom residence on Park Avenue for $19.5 million.
Jonathan Miller, of the appraisal firm Miller Samuel, which conducts market analysis for Prudential Douglas Elliman, expects 2012 to be much like 2011, a year that had many ups and downs but finished with a net loss of only 2.5% in home prices.
"Outside the occasional, one-off, trophy sales, which mischaracterize the market, the balance of the market should be very stable," he said.