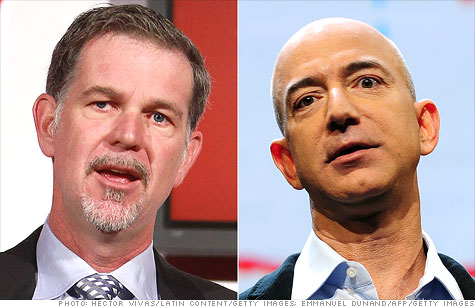 Netflix CEO Reed Hastings (left) is launching his company's streaming service in the United Kingdom, where Jeff Bezos' Amazon leads.
NEW YORK (CNNMoney) -- Netflix on Monday launched its streaming video service in the United Kingdom, where Amazon's rival service dominates.
The streaming video market is much more competitive in Europe, where Amazon's (AMZN, Fortune 500) Lovefilm service has accumulated 2 million customers. Netflix (NFLX) will also have to compete with services offered by content providers such as British Sky Broadcasting, which is part-owned by News Corp (NWS).
As a result, Netflix launched with a comparatively low price point, offering its service for £5.99 ($9.25) a month, following a one-month free trial. Lovefilm responded Monday by offering an introductory rate of £4.99 ($7.70) a month for a new, comparable service with unlimited streaming.
But Lovefilm did not comment on how long the introductory rate will last for its service. Prior to the anouncement of Monday's new service, Lovefilm customers had to fork over £7.99 ($15.40) a month for unlimited streaming, though that package included a DVD-by-mail service. Netflix will not include its DVD-by-mail service in its new markets.
Netflix also launched in Ireland on Monday, where Amazon currently does not compete. Its Irish service will cost €6.99 ($8.90) a month.
The company said it will stream programs from a host of British, Irish and international TV producers, including the BBC, CBS (CBS, Fortune 500), NBCUniversal and Viacom (VIA). It also will stream from the vast majority of the major movie studios -- except, notably, Warner Bros, which is owned by CNNMoney's parent company, Time Warner (TWX, Fortune 500).
"Now, you can enjoy as many great films and TV programs as you want, when you want, where you want, for one low monthly price with no contracts or commitments," said Reed Hastings, Netflix's CEO, in a prepared statement.
Netflix competes with Amazon in the United States as well, but to a far lesser degree. Amazon allows its Prime customers to stream unlimited movies online on its Instant Video service, but the service has yet to take off the way Lovefilm has in Europe.
Dish Network's (DISH, Fortune 500) Blockbuster service also offers a pay-as-you-watch streaming service. And Netflix battles some of the content creators themselves, which stream their shows and movies on Hulu.
With its two launches on Monday, Netflix now operates in 47 countries, and the company claims to have more than 20 million streaming customers.
The expansion will come at a cost, however. Netflix warned investors in November that it expects to be unprofitable for all of 2012, primarily due to its plan to enter the U.K. and Irish markets. As a result, the company has said it is looking into a secondary offering of its stock.
The announcement also comes at a time when Netflix is facing no small bit of turmoil. The company's troubles began when it announced it would charge separate prices for its DVDs-by-mail and streaming video plans last summer.
But the real debacle came in September, when Netflix announced its DVD service would be rebranded as Qwikster. Customers raged so much that Netflix pulled a stunning reversal a few short weeks later and canceled the entire Qwikster plan.
The stock fell from a high of nearly $300 a share to below $100 in the span of three months.
But Netflix's stock has made an improbable run in the past week and a half, gaining 27% since Dec. 29.