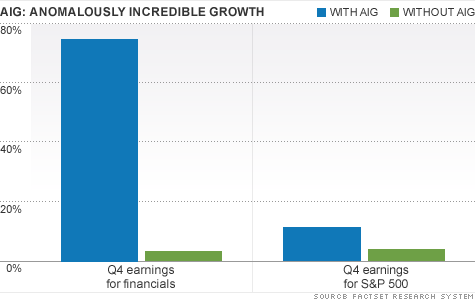 Insurer AIG is expected to swing from a huge loss in the fourth quarter of 2010 to a small profit in the fourth quarter of 2011. That skews profit forecasts for the financial sector and entire market.
NEW YORK (CNNMoney) -- Are you ready for some earnings? The good news is that profits, at first blush, will be solid. But when you look beneath the surface, results won't be nearly as robust.
Companies will start reporting their results for the fourth quarter over the next few weeks. And kicking things off ... as usual ... is Dow component Alcoa.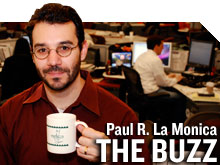 While Alcoa (AA, Fortune 500) and the aluminum sector may not matter so much to the global economy in 2011 as it did a few decades ago, Alcoa is still worth keeping an eye on simply because it is the first major company to announce results. In a sense, it's the Iowa Caucus of earnings.
Alcoa's numbers are due out after the closing bell Monday. And it doesn't appear as if Alcoa enjoyed a strong quarter. Analysts expect a big profit drop and a sales increase of just 2% from a year ago, according to estimates from Thomson Reuters.
But what's most telling about Alcoa is how quickly estimates have dropped. Analysts are currently predicting a profit of just a penny per share for Alcoa. Three months ago, the consensus estimate was 21 cents per share.
For the entire S&P 500, analysts now expect fourth-quarter profits to increase 11.6% from a year ago, according to FactSet Research Systems. That may sound impressive. If it holds up, it would be the ninth consecutive quarter of double-digit percentage growth.
But when you dig deeper into the headline numbers, there are some disturbing trends, said John Butters, senior earnings analyst with FactSet Research Systems.
At the start of the fourth quarter, Butters said the consensus forecast for earnings growth in the S&P 500 was 18.8%. Suddenly, 11.6% doesn't sound so good.
What's more, companies themselves are tripping over themselves to lower their own guidance. Whether it's weak consumer spending or the uncertainty surrounding Europe's debt crisis, many businesses don't want to set the bar too high.
Butters said that of the companies that have already issued guidance for the fourth quarter, nearly 75% have warned that their numbers won't meet forecasts. Over the past few quarters, Butters said it was more common for about two-thirds of companies to lower earnings targets.
On Thursday alone, retailers Target (TGT, Fortune 500) and J.C. Penney (JCP, Fortune 500) and drug maker Eli Lilly (LLY, Fortune 500) issued earnings warnings. And late last year, software giant Oracle (ORCL, Fortune 500) and cruise line operator Carnival (CCL) trimmed their profit forecasts.
However, the most worrisome sign regarding earnings is that even if companies wind up meeting or slightly beating the current 11.6% growth target for the S&P 500 to keep the double digit streak alive, that number is largely a mirage.
Butters explains that the main reason overall profits are expected to grow as much as they are is because analysts are forecasting an astonishing 74.5% leap in profits from the financial sector.
Say wha? How is it possible that big banks had such a strong quarter when everyone is worried about anemic trading volume, lackluster investment banking revenue and sovereign debt headaches? They didn't.
The financial sector's growth is largely due to a quirk with S&P 500 component and bailout king American International Group. AIG (AIG, Fortune 500) bled red ink in the fourth quarter of 2010, reporting a loss of $16.20 a share. But analysts expect a big swing to a profit of 61 cents a share for the fourth quarter of 2011.
Butters said that if you exclude AIG from the rest of the financial group, financial sector earnings are only expected to increase by 3.4% in the fourth quarter.
And if you remove the AIG estimate from the overall S&P 500 projection, profits for the remaining 499 companies are forecast to rise at just a 4.2% clip. So don't get fooled by anyone touting strong earnings growth in the fourth quarter.
Other than the AIG-juiced financials, only one sector (energy) is expected to report profit growth of more than 10% for the fourth quarter:
Profits are expected to be relatively flat for consumer staples (i.e. food and booze), consumer discretionary (i.e. retailers), technology and health care. And earnings are expected to slip for telecom and materials companies.
It makes sense. The economic headlines are not great around the world. So how can earnings be that strong? Cost-cutting only takes you so far. You need actual sales too.
"Europe is almost certainly close to recession and emerging market growth is slowing. The notion that we could have good export earnings is tough to believe," said George Feiger, CEO of Contango Capital Advisors in San Francisco. "And domestic growth is sluggish. Unemployment is still high."
Let's sum it all up. Analysts originally expected earnings growth of nearly 20% for the fourth quarter only three months ago. After a slew of estimate cuts and warnings from companies, growth forecasts for the S&P 500 have been cut nearly in half.
And the only reason the estimates are this high in the first place is due to a huge outlier in the form of AIG.
Can anyone explain to me why investors should be excited about real profit growth of 4%? Oh. That's right. They shouldn't. Companies aren't in nearly as great shape as you might think.
Best of StockTwits: Barnes and Noble (BKS, Fortune 500) said Thursday that 2012 earnings would be lower than expected. But Nook sales were really good! And the company may spin-off the e-reader biz! Unfortunately for B&N, investors saw through the spin. The stock lost nearly a quarter of its value.
A_F: a tablet does not alone make a company $BKS <---goin to zero
It is curious that B&N thinks a spin-off could actually work. Remember, this is the same company that spun-off its online bookstore Barnesandnoble.com in 1999 -- only to buy the shares back in 2003.
guildrysantana: Tablet winners $AAPL,$GOOG and $AMZN. The brick and mortar like $BKS will go the way of Circuit City and Borders
That's a bleak prediction that may not pan out. One thing that B&N still has in its favor (for now at least) is the backing of some generous benefactors.
Dr. John Malone, the mogul behind Liberty Media (LMCA). Malone's conglomerate holds a 16.6% stake in the company. Billionaire Ron Burkle is the second largest investor in Barnes and Noble. I don't see how either Malone or Burkle would allow BKS to go under.
bradloncar: $BKS deciding to spin off the Nook business is like the book selling equivalent of a good bank/ bad bank transaction LOL.
But what if they're both a bad bank? Sure, Nook sales are surging but it's hard to make a profit on the hardware in the cutthroat mobile device/tablet business.
agwarner: $BKS minus Nook going to focus on their core $SBUXlandlord/$AMZN Showroom biz
Ha! Maybe Starbucks (SBUX, Fortune 500) should splurge and buy out BKS? Starbooks? Just kidding. Or perhaps Research in Motion (RIMM) should merge with Barnes and Noble? PlayNook? Yeah. That's the ticket!
The opinions expressed in this commentary are solely those of Paul R. La Monica. Other than Time Warner, the parent of CNNMoney, and Abbott Laboratories, La Monica does not own positions in any individual stocks.