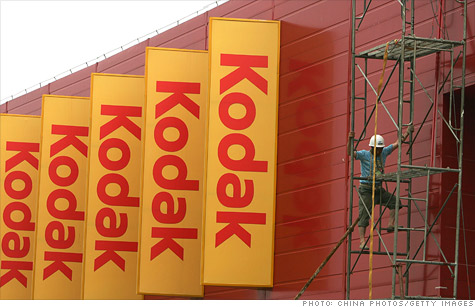 Eastman Kodak said it's consolidating, but there was no word on the possibility of job cuts or bankruptcy.
NEW YORK (CNNMoney) -- Eastman Kodak, the venerable but struggling photography company, announced Tuesday that it has streamlined its corporate structure as part of the ongoing effort to evolve from film to digital.
The move comes amid speculation that the company, which once was a component of the Dow Jones industrial average, is near a bankruptcy filing.
Kodak said the company is now structured into two divisions, the commercial segment and the consumer segment, as of Jan. 1. These segments will report to the newly created chief operating office, which is led by Philip Faraci and Laura Quatela.
The company was previously organized into three divisions, the graphic communications group, the consumer digital imaging group and the film, photofinishing and entertainment group.
Kodak spokesman Christopher Veronda did not answer a question from CNNMoney as to whether any employees would lose their jobs as part of the changes.
Veronda declined to comment on whether the changes are a precursor to a bankruptcy filing.
"This organizational structure change has been in development since completion of our annual internal strategic reviews," he said. "We are not commenting on market speculation and rumors."
Bankruptcy speculation has dogged the company since last year. It became stronger on Jan. 3, when the Wall Street Journal reported that a filing was imminent. Kodak's (EK, Fortune 500) stock has plunged about 20% over the last five days.
The company denied the reports, causing the stock to recover somewhat. But the stock is down by 90% over the last year.
Kodak was a relatively early pioneer in the field of digital photography, though it has been slow to leave behind its heavy reliance on outmoded film technology.