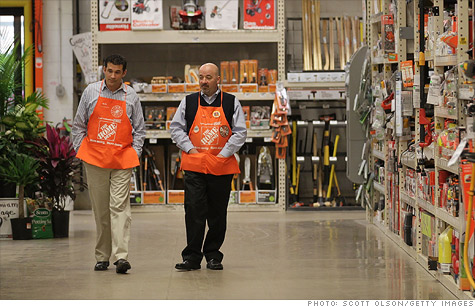 Home Depot intends to hire 70,000 seasonal workers for its busy spring selling season this year.
NEW YORK (CNNMoney) -- Get those orange aprons ready for the spring cleaning rush.
Home Depot announced Thursday it plans to hire 70,000 temporary workers at its U.S. stores to handle its spring selling season, the busiest time of the year for the home improvement chain.
The hiring target is 10,000 more than its announced target a year ago, although at that time it ended up hiring about 70,000 workers. While the jobs are intended to be temporary, Home Depot said that there is a possibility of permanent employment for many of those hired.
"About half of The Home Depot's 2011 seasonal hires stayed on in permanent positions," said the company.
Home Depot would not provide a pay range for the positions, saying pay varies depending on the position, the worker's experience and the market where the store is located. The temporary positions are part-time, with the number of hours available to seasonal workers also varying widely.
The spring shopping season at Home Depot (HD, Fortune 500) is like the holiday shopping season for the typical retailer. It starts in mid-February in the warmer states, and by March in the northern parts of the country, and runs through July 4.
As the nation's largest home improvement chain, Home Depot has 1,974 U.S. stores, and more than 300,000 employees worldwide.
No. 2 Lowe's (LOW, Fortune 500) said it plans to hire 40,000 temporary workers at its U.S. stores this year, roughly the same number it hired last year. The chain has 234,000 current employees spread across 1,726 stores in Canada, the U.S. and Mexico. Lowe's would not offer a pay range, but said the seasonal hires will receive approximately 20 to 25 hours of work a week.