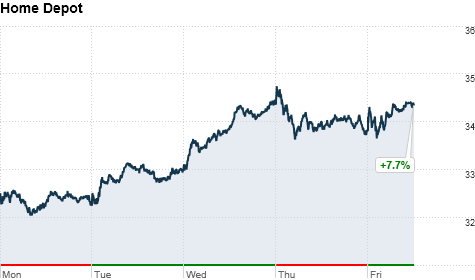 Click the chart to track Home Depot's start.
NEW YORK (CNNMoney) -- While the East Coast is preparing for Hurricane Irene, investors are searching for stocks that might benefit from the event.
Long lines are forming in front of Home Depot (HD, Fortune 500) and Lowe's (LOW, Fortune 500) as people are urged to buy generators and other basic supplies. Shares of Home Depot are up more than 7% over the past week -- more than 300 basis points above the S&P 500 (SPX).
The Shaw Group (SHAW, Fortune 500) was one of the main beneficiaries from the rebuilding after hurricane Katrina hit in August 2005. Its stock went up more than 50% in the two weeks following the tragic event. It is up more than 3% today.
Insurance stocks might be affected negatively as those firms could wind up paying billions of dollars in damage claims.
The stock market often discounts in advance widely known and expected events, but the real impact of the hurricane can only be assessed after the event.
Shares of Allstate Corp. (ALL, Fortune 500) have taken a drubbing this year, due to the spring storms that spread across the Midwest and Southern states.
These are some of the popular themes on StockTwits Friday:
reformedbroker: I'm gonna hook up you up today with a Hurricane trade - $SHAW may work, they rebuild stuff. Chart during Rita/Katrina.
amy_calistri: I thought Hurricane Irene would be good for $HD, but based on what I'm reading it will also be good for $DEO. Lotta booze inventory builds.
Arbinvestor33: All home power generators on the East Coast sold out and stockpiling ahead of Irene. Likely pop for big box retailers. $SHLD $HD $$
ppearlman: Do not Sell Insurance and Buy Home Depot. $HD $ALL $LOW
trapp303: $DJIA If govt won't stimulate economy Irene will..10bil plus in damage insurers will get hit but gng to b opportunity like $USG $HD.
wsmco: The German says the line of people buying generators at $HD is approx 300 yards long...