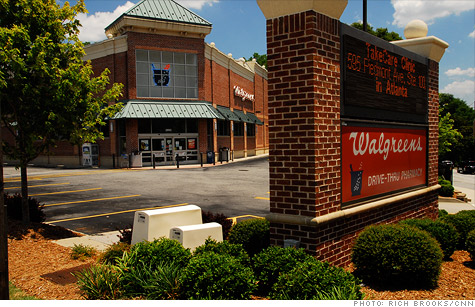 NEW YORK (CNNMoney) -- "It's time to take a stand against @ExpressScripts. Tell them people want a choice by tweeting hashtag #ILoveWalgreens."
That's the tweet, sent out by Walgreens Thursday morning, that ignited a battle royale on Twitter between the pharmacy and Express Scripts (ESRX, Fortune 500), a prescription drug insurer. Walgreens paid the social network to promote the tweet, making it show up in feeds of all Twitter users, even those who don't follow the pharmacy online.
The company also paid to promote the hashtag #ILoveWalgreens.
Walgreens' Twitter campaign spurred Express Scripts to tweet back a barrage of "facts" about its failed negotiations with the pharmacy chain. Walgreens in June announced that it would no longer accept Express Scripts insurance beginning in 2012, citing what it described as the insurer's low-ball offer on prescription drug coverage rates.
"On our negotiations with Walgreens... Fact 2: Walgreens' proposed rates/terms would make them the most expensive pharmacy in our network," Express Scripts snapped back on the microblogging site.
Though the decision was first made public seven months ago, Walgreens has continued to take a beating for it. Shares of Walgreen (WAG, Fortune 500), the parent company of the drug store, has fallen 26% since the decision to drop Express Scripts, the nation's third-largest pharmaceutical insurance company.
The issue returned to the limelight on Wednesday when Walgreen held its shareholders meeting in Chicago. Nervous investors voiced concerns that the company had made an error in judgment.
Walgreen CEO Gregory Wasson sought to assure them that although the company will take a short-term beating on its earnings, the long-term impact of the deal Express Scripts wanted would have been far more damaging to the pharmacy.
Taking to Twitter to influence the court of public opinion, Walgreens transformed its feed from an advertiser for cough medicines to an attack dog.
"We tried to take care of our Military families, but Express Scripts said no," the company tweeted Thursday afternoon.
"Patients should be able to choose their pharmacy, not @ExpressScripts," Walgreens tweeted earlier in the day.
In response, Express Scripts tweeted that 56,000 other pharmacies still accept the company's coverage, saying that the "vast majority" of clients and members have already moved on from Walgreens.
Meanwhile, Express Scripts is trying to buy Medco, the nation's largest prescription drug coverage company, for $29 billion. Walgreens currently accepts Medco, but it can't yet be known how that deal would impact negotiations with the insurer.
Though some pharmaceutical industry analysts believe the Medco (MHS, Fortune 500) deal may reduce the price of prescription drugs, the bid has faced antitrust scrutiny and may have a difficult time getting approval from regulators.