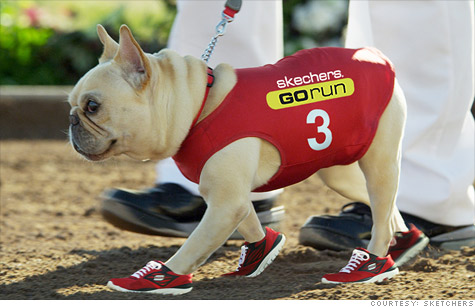 A French bulldog named Mr. Quiggly will co-star with Mark Cuban in Skechers' upcoming Super Bowl ad.
NEW YORK (CNNMoney) -- Skechers, the athletic shoe company, has unveiled the star of its upcoming Super Bowl commercial -- and it's not Kim Kardashian.
It's a little dog named Mr. Quiggly.
Mr. Quiggly, a French bulldog, has replaced the reality television celebrity Kardashian, who starred in last year's Super Bowl Skechers ad as a sultry heartbreaker.
Mr. Quiggly will share Skechers' air time with investor Mark Cuban, who owns the National Basketball Association Champion Dallas Mavericks.
Skechers (SKX) said that Cuban will play a "key role" in the commercial, but acknowledged that the "scrappy" dog could be "stealing the spotlight."
Like Kardashian in last year's ad, Mr. Quiggly will be dressed in athletic gear. He will be wearing two pairs of red Skechers GOrun shoes -- not just one -- along with a matching sports jersey.
Skechers said that Kardashian's contract with the company expired at the end of 2011.
Kardashian and Mr. Quiggly share a strong connection to the NBA. Mr. Quiggly co-stars with Mavericks-owner, Cuban, while Kardashian was briefly married to NBA player Kris Humphries.
Skechers said that its ad will run in the first half of the game, before the two minute warning.
NBC is broadcasting the game on Feb. 5 from Indianapolis. According to the network, the average price of a 30-second ad is $3.5 million, a record high.
Other Super Bowl advertisers that have been confirmed for this year include Anheuser-Busch InBev (BUD), Century 21 Real Estate, online domain company Go Daddy, the snack food company Frito-Lay, and automakers Audi and Hyundai.