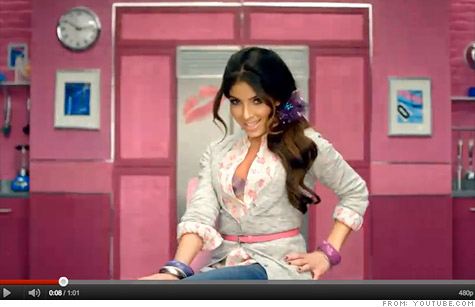 Kim Kardashian claims this Old Navy ad evoked the celebrity's 'identity and persona.' Seeks unspecified compensation.
NEW YORK (CNNMoney) -- Reality star and entrepreneur Kim Kardashian sued the Gap Wednesday, alleging the clothing retailer used a faux-dashian model in a commercial for its Old Navy brand.
"Old Navy used Kardashian's likeness in the form of a celebrity look-alike, and styled the infringing ads to evoke Kardashian's identity and persona," said a statement from Kardashian's lawyers, citing the lawsuit.
Kardashian is suing to stop the multi-media campaign and for unspecified "compensatory and punitive damages."
The statement notes that Kardashian has ownership stakes in a number of other retail brands.
"I've worked hard to support the products I'm involved in and personally believe in," Kardashian said in the statement.
"Kim Kardashian is immediately recognizable, and is known for her look and style," her lawyer said in the statement. "Her identity and persona are valuable. When her intellectual property rights are violated, she intends to enforce them."
A spokesperson for Gap Inc., Louise Callagy, told CNN Entertainment Wednesday, "As we have not yet seen this lawsuit, we have no comment".