Kardashian Kard kanceled by 'fun-loving' sisters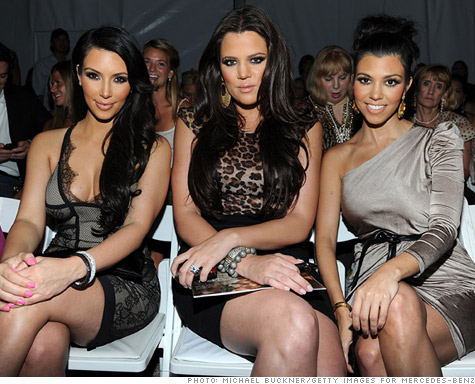 NEW YORK (CNNMoney.com) -- Less than a month after the Kardashian Kard made its controversial debut, the reality show sisters terminated the glitzy prepaid debit card.
The decision to dump the card comes after Connecticut Attorney General Richard Blumenthal wrote a letter Friday to the card's issuer, University National Bank, questioning the legality of the card's "pernicious and predatory fees."
"Among the prepaid debit cards now on the market, the Kardashian Kard is particularly troubling because of its high fees combined with its appeal to financially unsophisticated young adult Kardashian fans," he wrote. "Keeping up with the Kardashians is impossible using these cards."
On Monday, the Kardashian family's attorney sent a notice of termination to the the banks and licensing companies responsible for the card, saying the "negative spotlight...threatens everything for which they have worked."
"The Kardashians have worked extremely long and hard to create a positive public persona that appeals to everyone, particularly young adults," the family's attorney wrote in the letter. "They have been successful in doing so because they are recognized as honest, ethical, and fun-loving individuals who are kind and caring to others."
When asked at the CNN offices in New York City about their decision to pull the plug on the card, the sisters refused to comment.
"They [the Kardashians] were assured under their agreement with the card issuers that everything would be lawful, but now that these legal concerns are being raised about the card, they're saying, 'We don't want to have anything to do with this,'" said a spokeswoman for Blumenthal.
Another reason the venture may not have been worth the "negative spotlight"? Only 250 consumers had purchased the card, University National Bank said in a statement Monday.
Those customers will be "promptly notified" that their cards are only active for 30 more days, at which point any balances will be refunded.
In addition to the legal allegations from Blumenthal, the card received heavy criticism from industry experts and consumer advocacy groups for its long list of fees.
While regular bank debit cards are typically free and don't charge any fees, a 12-month Kardashian Kard cost $99.95 just to own, including a card purchase fee of $9.95 and 12 monthly fees of $7.95. After the first year, consumers would have to continue to pay the $7.95 monthly fee.
On top of these initial fees, it cost Kardashian Kard users $1 every time they added money to their card, and it cost $1.50 to speak with a live operator. If they wanted to pay their bills automatically using the card, they were charged $2 per transaction.
In exchange, consumers could make payments online, over the phone or in stores without racking up credit card debt or overspending their checking accounts.
This notion of debt-free spending is why prepaid cards have shot up in popularity, becoming increasingly attractive among consumers who don't qualify for credit cards, are fed up with skyrocketing interest rates or are young and just entering the world of plastic.
But most prepaid cards -- including the now-expired Kardashian Kard -- just aren't worth the cost, with many charging activation fees as high as $40, monthly fees of up to $10, paper statement fees of as much as $5.95, inactivity fees up to $9.95 and customer service fees as high as $3.95.
"After enduring a week of bad publicity, the Kardashians have made the right call by pulling out of the prepaid card business," said Gail Hillebrand, a senior attorney at Consumers Union. "But other prepaid card rip-offs are rampant in the marketplace and consumers remain vulnerable to high fees and weak protections.