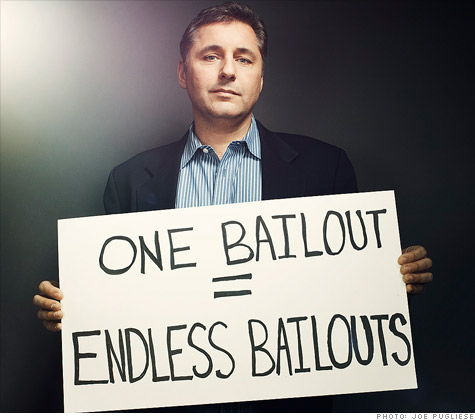 (MONEY magazine) -- Working from a nondescript business park in Ellicott City, Md., a suburb of Baltimore, John Hussman is far from the Wall Street herd. So are the investment strategies for his $8 billion mutual fund group. His main stock fund hedges its bets by buying options that rise in value as the markets fall (or vice versa).
That defensiveness depresses profits in bull markets but protected his investors in the 2008 crash. His stock fund was down 9%, vs. the S&P 500's 37% tumble.
Hussman, age 49, holds a Ph.D. in economics. He has a wide-ranging mind and a passion for analysis. After struggling with his weight as a teen, he researched exercise and nutrition regimes (see hussmanfitness.org).
When his son was diagnosed with autism, Hussman started studying the topic and funding university research. He recently served as lead author of a journal article on new ways to identify genes in autism and other disorders. His slightly geeky, occasionally incendiary market commentaries are a must-read among financial journalists and the hedge fund crowd.
In October, as other pundits were scratching their heads over what the Occupy demonstrations were about, Hussman suggested protester "talking points": "The basic function of the financial markets has been corrupted into what I've grown to view as a self-serving carnival of speculation," he wrote.
At the heart of that corruption he puts the Wall Street bailouts.
As the financial crisis worsened in 2008, Hussman believes, regulators began to equate rescuing the financial system with rescuing bankers and their bondholders.
Yes, some of the institutions that got government aid have paid back their loans with interest. But Hussman sees a dangerous precedent in the bailouts and the Federal Reserve's massive purchases of shaky mortgage securities to buttress bank reserves and inject money into the financial system -- so-called quantitative easing.
The rescue efforts, he says, unwisely lessened the consequences for those who misallocated capital, thus encouraging speculative risk-taking. "It's like offering a lollipop to quiet down a 2-year-old throwing a tantrum," Hussman says, "and expecting that the result will be fewer tantrums."
Second, he says the bailouts removed market pressure to renegotiate millions of underwater mortgages, thereby leaving heavy debt burdens on homeowners and stifling the economic recovery. That in turn has constrained tax revenue and led to underinvestment in sources of opportunity and growth, such as education and research.
Still, Hussman has some hope. Reforms enacted in 2010 call for regulators to develop orderly financial-company failure rules that will put some risk back on bondholders. That's a good first step, Hussman says, though after watching how regulators acted in the crisis he's skeptical of how tough they'd be in the next one.
His investment outlook:
Hussman, worried about another recession, is playing defense. Much of his funds' assets are in Treasuries, gold stocks and recession-resistant sectors such as utilities and health care.