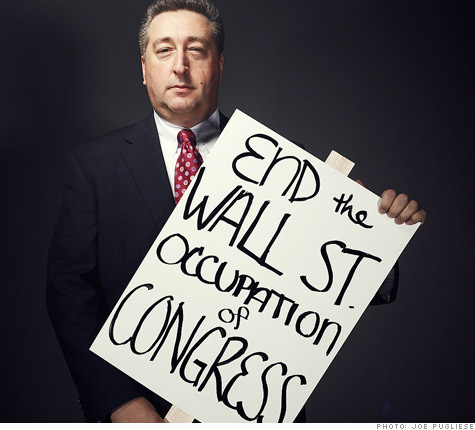 Research chief (and blogger) Barry Ritholtz, Fusion IQ.
(MONEY magazine) -- In the anti-incumbency movement on Wall Street, Barry Ritholtz is the equivalent of a talk radio host. The 50-year-old New York native is sometimes funny, often profane, and almost always ticked off.
He heads research for Fusion IQ, a quantitative analysis firm for traders that also manages more than $180 million for wealthy investors, a job he came to after stints as a lawyer, trader and market strategist. But Ritholtz seems to have found his true calling as a blogger and columnist.
A recent rant about the securities ratings agencies, for example, asked: "Have investors figured out that [the agencies] are corrupted, conflicted, unable to honestly discharge their duties ... that they suck at what they do?"
That attitude has made Ritholtz's blog, The Big Picture, one of the Street's most popular, attracting several hundred thousand visitors a month. It's also won him Main Street recognition, including a column in the Washington Post and invitations to speak to groups of state prosecutors and treasurers.
The best and worst of Wall Street 2011
Ask him what he thinks about Occupy Wall Street, and he shoots back a more pointed question: Why haven't Americans "figured out they're getting screwed ... and taken to the streets en masse?"
Ritholtz is especially angered by how few prosecutions there have been in the wake of the biggest crash since 1929. "We ought to do what we did in the savings and loan crisis and actually put these sons of bitches in jail," Ritholtz says. (After the S&L bust in 1989, hundreds of thrift officials ended up in stripes.)
Ritholtz puts the blame for the lack of accountability squarely on the influence of money in Washington. Members of Congress, he gibes, ought to have to wear suits emblazoned with the names of their donors, much the way NASCAR drivers sport their sponsors' logos.
When MONEY spoke to Ritholtz, police had recently dismantled the Zuccotti Park encampment and made more than 200 arrests. Ritholtz sees irony.
"If you are going to violate the law, do it in a big way," he says. "If you merely pitch a tent on Wall Street, you will go to jail. If you bring the world to the brink of economic collapse, you will get a big fat check for your trouble. It is absurd."
His investment outlook:
Ritholtz, too, is concerned about the possibility of another recession, so he advocates a conservative approach. He says his firm's clients are invested in the SPDR S&P Dividend (SDY) exchange-traded fund, a broad collection of dividend-paying stocks, and he's also bullish on high-quality corporate and municipal bonds.