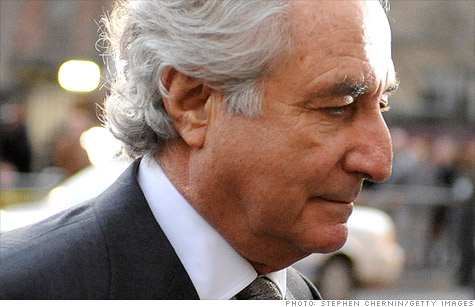 Investors who lost money to Ponzi schemer Bernard Madoff have sued JPMorgan for $19 million, accusing the Wall Street firm of aiding and abetting Madoff and profiting from his pyramid-style scam.
NEW YORK (CNNMoney) -- Two investors who lost their money to Bernard Madoff are suing JPMorgan Chase for $19 billion, accusing the firm of aiding and abetting the Ponzi schemer.
Stephen and Leyla Hill filed suit Monday in federal district court in New York. The suit accuses JPMorgan (JPM, Fortune 500), which was Madoff's banker for more than 20 years, of knowing about the ponzi scheme.
"JPMorgan was, in effect, the banking back-office for the Madoff Ponzi scheme, shuffling piles of money from one account to another at Madoff's request," said Steve Berman of Hagens Berman, in a prepared statement. "Had JPMorgan done even a perfunctory job of due diligence and fulfilled its duty to report Madoff's illegalities, it would have saved investors millions of dollars."
The Hills' filing occurred just days after a similar suit from the court-appointed trustee Irving Picard seeking $19 billion from JPMorgan was dismissed by U.S. District Court Judge Colleen McMahon in New York. The judge also tossed out a similar suit against UBS (UBS) for $2 billion, ruling that Picard did not have the authority to pursue the cases as he presented them.
JPMorgan spokeswoman Jennifer Zuccarelli suggested that the Hills' lawsuit was just as doomed.
"The purported class action is lifted almost verbatim from the trustee's lawsuit that Judge McMahon dismissed last week," said Zuccarelli. "At the time the trustee's lawsuit was filed, we said that his claims were baseless and that we would vigorously defend the case. We believe this most recent lawsuit is equally meritless."
Berman said that JPMorgan handled Madoff's accounts since 1986 and "profited handsomely" from the relationship.
Madoff was arrested in December of 2008 and pleaded guilty three months later to running the largest pyramid-style scam in history. He is currently languishing in a medium-security federal prison in Butner, N.C., where is serving a 150-year sentence.
The trustee has filed about 1,000 lawsuits worth some $100 billion against individuals and companies accused of profiting from Madoff's scheme. That's five times the $20 billion that Madoff is believed to have cheated from his clients while masquerading as an investment firm.
About half of the stolen money has been recovered by the trustee's firm and the U.S. Marshals. Claims have been filed by more than 16,000 investors, though the trustee has only recognized 2,425 as legitimate victims. The major reason for this discrepancy is that nearly 11,000 rejected claimants are third-party investors, meaning that they invested indirectly through feeder funds and do not have legal protection.
The case against JPMorgan and UBS case is only the most recent courtroom loss limiting the amount of money the trustee could collect.
Picard suffered a high-profile blow in his attempt to collect $1 billion from the owners of the New York Mets baseball team, Fred Wilpon and Saul Katz. In September, a federal judge dismissed most counts of Picard's suit.