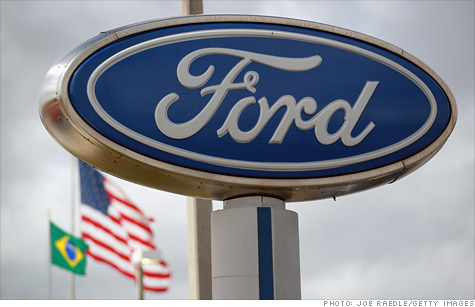 For first time since 2008, Ford's salaried workers will get both merit pay increases and bonus payments.
NEW YORK (CNNMoney) -- White collar workers at Ford Motor will get a pay increase and a bonus, the first time in four years that they'll receive both, the company said Thursday.
The news is not a surprise, given the the nation's No. 2 automaker's improving profits. Ford (F, Fortune 500) is expected to post even higher profits when it reports results, likely next week.
Ford's 2010 profit of $6.6 billion allowed it to pay profit sharing to hourly and salaried workers last year, but workers did not get an increase in their base salaries.
In 2010 salaried workers got pay increases but no bonuses. Hourly workers didn't get pay increases, they did get a bonus though. And in 2009, as the company struggled to avoid the bankruptcy filing that hit its rivals, no workers got raises or bonuses.
The average pay raise will be about 2.7%, although individual performance will determine each employee's exact raise, according to Ford spokeswoman Marcey Evans.
There are 20,000 salaried workers at Ford, although Evans couldn't say how many are in the United States and Canada.
The 40,600 U.S. hourly workers -- members of the United Auto Workers union that typically work on the assembly lines -- got a new contract last fall. In the labor pact, union members got a $6,000 signing bonus as well as an early payment of the profit sharing due for first-half 2011 results.
There was no change in hourly pay rates for veteran workers in the four-year labor deal, although they are guaranteed another $4,500 in bonus payments spread over the next three years, in addition to profit sharing bonuses.
Rivals General Motors (GM, Fortune 500) and Chrysler Group have yet to notify their salaried workers about profit sharing or merit pay for last year, but they are expected to do so soon.
All three major U.S. automakers made money last year, the first time since 2004 that all three were profitable. It also marked the first time since 1988 that all three gained U.S. market share.