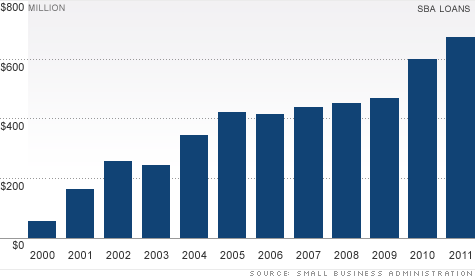 SBA-backed loans to doctors have jumped more than 10-fold since 2000. Industry experts say this trend suggests independent doctors are struggling.
NEW YORK (CNNMoney) -- Government-backed loans to doctors have surged more than 10-fold in the past decade, a trend industry insiders say is a red flag that doctors in America are in financial distress.
From 2000 to 2011, Small Business Administration loans to physicians' offices, including private practice doctors and mental health specialists, ballooned to $675 million from less than $60 million.
"The fact that SBA loans have jumped this much is eye-opening," said Tom Blue, executive director of the American Academy of Private Physicians. "It definitely speaks to the story that doctors are struggling."
Many doctors, especially those operating solo or small private practices, are cash-strapped -- taking out loans to make payroll and pay their monthly business and medical expenses, said Blue.
Among the factors they cite for their shrinking revenue: falling insurance reimbursements, changing regulations and rising business, medical liability and drug costs.
Consequently, Blue said a growing number of independent physicians are also seeking loans to transition their practices to more lucrative, insurance-free, business models.
Doctors tend to apply for SBA loans, which are government-guaranteed bank loans, because they are easier to get and the interest rates on them can be lower than the ones on regular loans.
Loan lifeline. Dr. Zuhdi Jasser, a family physician with a private practice in Phoenix, isn't surprised by the surge in loans.
"Many of us [independent doctors] are becoming a dying breed," he said. "And those of us remaining are struggling to survive."
Jasser said his own income has slumped 30% in the past two years, which has prompted him to take out loans to cover the rising costs of supplies and increasing payroll.
In late 2010, he took out a $45,000 small business loan from a bank to transition from paper patient records to electronic medical ones -- a government mandate that health care providers must do by 2014.
Meanwhile, Dr. Mike Gorman, a family physician in Logandale, Nev., is on the verge of applying for a second SBA loan to make ends meet. "I'm not getting paid by insurance companies," said Gorman, adding that money owed to him has exceeded $100,000.
Last year, he took out his first SBA loan to pay his five employees and keep his practice running.
Dr. Bryan Glick, a family physician, took out a $198,000 SBA loan to start his own practice in Anthem, Ariz., shortly after graduating from his residency in 2009.
That loan sustained his practice for more than a year, but he still was not making money.
So he took over a concierge practice 30 miles away in Scottsdale. His concierge medical practice doesn't accept any insurance and charges an annual membership fee ranging from $3,000 to $5,000 for unlimited doctor visits and cell phone and e-mail access.
He continues to operate his traditional private practice. The concierge practice has helped Glick work off his SBA loan. He's now contemplating a second SBA loan to expand that practice.
Jasser has thought about the concierge model, too. But he acknowledged that it's not an option right now.
"Half of my patients are on Medicare," he said. "For economic and ethical reasons, I can't do it."