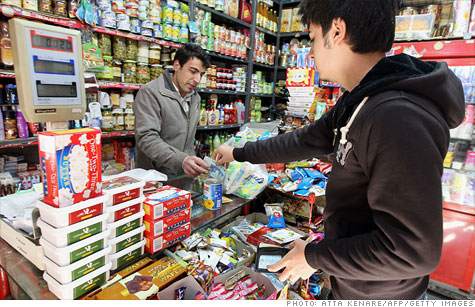 Experts say recent sanctions from the U.S. and Europe will crimp Iran's ability to sell its oil, get foreign imports, and are at least partly behind a huge spike in prices there.
NEW YORK (CNNMoney) -- Over the last few months Western governments have been tightening the economic noose around Iran.
The idea is to use economic pressure to force Iran's government to give up its nuclear program, which it says is for peaceful purposes but many think is actually intended to produce a weapon.
But sanctions can also have a huge impact on a nation's people. In Iraq, the United Nations estimated half a million children were killed by malnutrition and disease in the 1990s as a result of international sanctions and a refusal by Saddam Hussein to accept a UN program to alleviate the suffering there.
In Iran's case expert opinion varies as to just how hard sanctions will hit that economy. But there is consensus around two points: 1) It won't be as bad as Iraq. 2) It's already hurting Iranians and the suffering is bound to get worse.
"The sanctions are increasingly biting," said Djavad Salehi-Isfahani, an Iranian-born professor of economics at Virginia Tech. "The Iranians are having a hard time paying for things they import, and getting paid for things they export."
Tightening the oil vise: The latest round of sanctions from the United States, the UK and Europe aims to directly restrict Iran's ability to sell its oil.
They accomplish that goal largely by going after Iran's central bank, which finances Iran's 2.2 million barrels a day in oil exports, and any international bank that does business with Iran's central bank.
The sanctions are supposed to allow transactions in essential items like food and medical supplies.
The problem, say experts, is that international banks become nervous and ban all transactions with the country rather than risk the wrath of the United States or Europe. Banks that are thought to be in cahoots with the Iranians might find themselves banned from doing business in the world's largest and second largest economies.
Hospitals in Iran are having a hard time getting advanced medial equipment from abroad because they can't find banks to finance the transactions, said Jamal Abdi, policy director at the National Iranian American Council.
Previous sanctions that prohibited the sale of items that can have both civilian and military uses, like airplane parts, has resulted in air disasters that have killed 1,000 Iranians over the last decade, said Abdi.
"Every time a plane crashes, Iranians blame U.S. sanctions," said Abdi.
The sanctions are also at least partially responsible for a surge in inflation.
The price of basic goods like food, medicine and fuel is rising. Iranians inside the country say the price of things like meat and milk are up 50%.
"Virtually all consumer goods present a problem," said Anthony Cordesman, a Middle East expert at the Center for Strategic and International Studies, noting that Iran is dependent on imports for one-sixth of its economy.
While difficulty in paying for imports is a factor in the runup, a larger factor is the expiration of subsidies the Iranian government deemed to be too expensive.
For example, Iranians used to pay 38 cents a gallon for subsidized gasoline up until 2010. Today, without those subsidies gas in Iran averages between $1.30 and $2.30 per gallon, said Salehi-Isfahani.
When consumers have to spend so much more for basic things, it will eventually erode their ability to save for other, longer-term items.
"You're not going to see Iranians starving," said Cordesman. "But the savings for marriage won't exist, the cost of educating your kid becomes a major burden."
Iran's currency has also been hit. While the government controls the official exchange rate, people with relatives overseas or who travel for business often have to use the black market to obtain foreign currency in excess of what the government will hand out.
On the black market Iran's currency, the rial, has lost 50% of its value versus the dollar since the new U.S. sanctions went into effect at the beginning of this year, said Salehi-Isfahani.
The sanctions have also scared off foreign investors, he said, and have helped keep Iran's economy, already grappling with a 15% unemployment rate, marred in recession.
Other experts paint the sanctions as more of problem for Iranians who, thanks to nearly a decade of high oil prices, have gotten used to the fancier things in life.
Iranians no longer want to buy their own small oranges, but rather the bigger, juicer ones imported from Turkey, said Kevan Harris, an Iranian researcher at Johns Hopkins University. They now prefer Swiss chocolate.
As for life-essential items like basic food, aircraft parts or medical equipment, Harris said that as long as trade remains open with India, China and other countries that have not endorsed the new sanctions, Harris thinks Iran will be able to still get those goods.
"The Iranians are pretty crafty," said Harris. "If they really want capital goods, they can get them."
So far, Iranian officials remain defiant in the face of sanctions.
On Monday Iran's intelligence minister, Heidar Moslehi, called the sanctions "ineffective" and said that rather than being a threat to the nation, they offer an opportunity as they will increase the price of oil, according to Iran's state news agency.
But how bad things get in Iran largely depends on how tightly the sanctions are enforced, and if Iran's big trading partner China gets on board.
If Iran is increasingly isolated, some fear it could be more than just oranges and chocolate that disappear from store shelves.
"We haven't seen they types of sanctions where people are starving," said Abdi at the National Iranian American Council. "But we're moving in that direction."