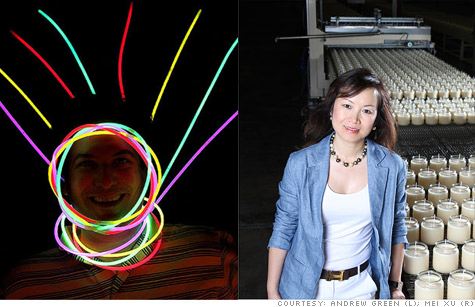 Small business owners, such as Andrew Green [left] and Mei Xu, say the Chinese New Year is a challenging time for U.S. small businesses.
NEW YORK (CNNMoney) -- As China celebrates the New Year by ushering in the Year of the Dragon, U.S. small companies with exposure to the country are doing more hand-wringing than rejoicing.
During the Chinese New Year, which started Monday, factory output grinds to a halt as many of the migrant workers return to their home provinces during a two- to four-week period.
Large and small companies have adjusted their business models over the years to accommodate the holiday. But those adjustments have not taken into account new economic trends in China, which are whittling down the country's factory workforce. Fewer workers have meant delayed shipments and lost sales for small U.S. companies, some owners complained.
"Even though we planned for the New Year holiday and ordered early, my supplier in China couldn't get to my order on time," said Andrew Green, owner of GlowUniverse.com, which produces glow-in-the-dark party supplies.
Green ordered 1.5 million glow sticks valued at $80,000 and was hoping the shipment would arrive in mid-January. But the factory said it couldn't make that deadline. As soon as his order is ready, Green said he'll shell out an additional $2,300 to expedite the shipment to the United States. His hope is that the products arrive in February or else he could lose crucial post-Christmas sales during what is already the slowest time of the year for his company.
Other economic trends at play. New labor policies implemented in China have shaken up the manufacturing industry, experts said. In 2008, the government granted more power to factory workers, mandating that employers provide benefits, such as social security and retirement insurance. New laws also made it much harder to fire workers. The increased costs either forced factories to shutter or encouraged owners to work with leaner staffs.
"Ten years ago, maybe we had 20 factories supplying us with glass for our candles," said Mei Xu, owner of Chesapeake Bay Candles. "Now we have five."
Adding to the labor shortage: More peasants -- China's main labor force -- are opting to stay on their farms, thanks to government incentives. Meanwhile, others are going for higher-paying service jobs.
Xu, whose candles are sold in Bloomingdales, Bed, Bath & Beyond (BBBY, Fortune 500) and Kohl's (KSS, Fortune 500), has been importing from China and Vietnam for 17 years. So she knows how the Lunar New Year -- which is celebrated in both countries -- can hurt a small U.S. company. But these newer economic trends are making it even more difficult to conduct business there around this time of the year, she said.
Tired of these challenges, Xu opened her first U.S. factory in Maryland last June. "This will help us bring our products to market much faster," she said.
Mike Brey, who owns two companies that import from China, said he is "doubly kicked in the butt by the Chinese New Year shutdown."
Brey Corp. operates five Hobby Works stores in the United States that sell imported goods, such as model trains, telescopes and planes. Another business -- WingTOTE -- supplies Chinese-made tote bags to American retailers.
"Last year, we placed our spring orders extra early in December to avoid the New Year problem," said Brey. "We still didn't get new product until June."
Brey said the factory contracted to make his products was overwhelmed by a surge in demand from other businesses that also moved up their orders.
"We're the little guy," said Brey. "The factory took care of orders from bigger clients, like Wal-Mart (WMT, Fortune 500) and Target (TGT, Fortune 500) first. They couldn't get to us before the holiday and bumped us."
Determined to not get burned again, Brey placed all of the orders for Spring 2012 as early as summer of last year and asked his retail clients to pay him up front for the sizeable inventory.
"My plan was brilliant," said Brey. Except for one thing. Last Christmas was exceptionally good for hobby goods sales, so "our sales jumped 24% in December in one store," he said.
The holiday surge also ate into the inventory he was holding on to for spring. "After all the effort to avoid it, I'm about to be in the same spot as last year," he said.
Indeed. Brey had to place another order in December to his factory in China.
"That order is for some of our best sellers," he said. "It's hasn't been shipped yet. The factory is waiting to get to it until after the New Year. I am nervous, again."
-- Are you a U.S. small business that is trying to revive domestic manufacturing but are facing significant hurdles? E-mail Parija Kavilanz and you could be part of an upcoming article. Click here for CNNMoney.com comment policy.