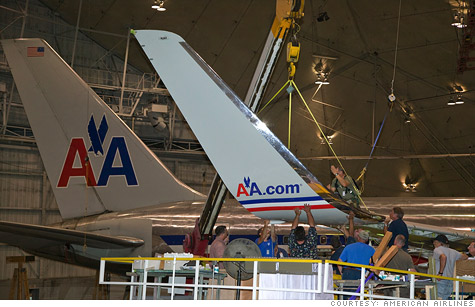 The union representing American Airlines maintenance workers believes the company is getting ready to shift some of the maintenance worker overseas in a cost-cutting move.
NEW YORK (CNNMoney) -- American Airlines' parent is meeting with its unions this week to lay out cost cuts it wants to implement as part of its bankruptcy reorganization -- moves that could cost many of the company's 81,000 workers their jobs and a portion of their pension benefits.
AMR Corp. said at the time of its Nov. 29 bankruptcy filing that it was forced to file because of the need to achieve a more competitive labor structure. Most other major U.S. airlines have already cut labor costs by their own trips through bankruptcy over the last 10 years.
Among the moves that American's unions expect include having aircraft flown overseas to low-cost maintenance facilities for the extensive overhaul required for planes on a regular basis. Most U.S. airlines, including United Continental (UAL, Fortune 500), Southwest Airlines (LUV, Fortune 500) and Delta Air Lines (DAL, Fortune 500), already have costly maintenance performed at overseas facilities.
AMR (AAMRQ), which owns both American and feeder airline American Eagle, is the only major carrier to perform the work in-house at U.S. facilities.
"This is the dirty little secret of U.S. aviation. You don't know where the plane that you're flying was repaired," said Jamie Horwitz, spokesman for the Transport Workers Union. "You assume standards are high for the person who works on your fuel line, but it doesn't necessarily follow."
The Transport Workers represent 11,000 mechanics at American and its feeder airline, American Eagle, as well as 15,000 other ground workers such as baggage handlers, plane cleaners and dispatchers. It is vowing to fight any company plans to shift work overseas.
"(On Wednesday) we get the bad news, but it'll be the beginning of a prolonged battle," said Horwitz.
Horwitz said there are two major American-owned facilities doing the heavy maintenance work -- one in Tulsa, Okla., which has 6,500 union members, and another outside of Dallas with 2,200 union members.
Horwitz and industry experts say almost all other U.S. airlines already have outsourced regular overhaul maintenance required for aircraft to facilities in countries such as China, El Salvador and throughout South America.
Mike Boyd, an industry consultant, said U.S. maintenance workers are far more efficient performing the maintenance, but probably are paid three times as much.
"When you have very low wages in El Salvador or China, that's very hard to compete with," Boyd said.
Horwitz said the Transport Workers Union is hopeful it will be able to block any attempt by American to shift the heavy maintenance work overseas.
"We think the environment about creating jobs, keeping jobs, offshoring work to Third-World countries like El Salvador, it's a much different issue today than in 2003 when other airlines went through bankruptcy," he said. "We certainly would like to make it a major issue in Congress."
The unions representing pilots and flight attendants previously said they're prepared for the company to try to institute longer hours in a bid to increase productivity. American flight crews work shorter hours than their counterparts at other major carriers. That would likely cut the flight crew jobs as well.
AMR spokesman Tim Smith wouldn't comment on what the company will lay out for the employees, saying it will be the start of a negotiating process.
"We need a competitive cost structure," he said. "It doesn't necessarily mean we get to that the way others have done."
He also wouldn't comment on whether the company will seek to move its pension plans, which it estimates are underfunded by $5 billion, to the Pension Benefit Guaranty Corp., a federal agency that protects the pensions of workers in private-sector retirement plans.
The Pension Benefit Guaranty Corp. has issued numerous statements since the American bankruptcy that it would seek to keep the airline from dumping its pensions on the agency, which is already facing a deficit of its own. The agency's estimate is that the American pensions are underfunded by $10 billion.
If the company is successful in shifting its pensions to the agency, workers would likely lose promised retiree health-care benefits. Many, especially the pilots, would have their pension benefits slashed.