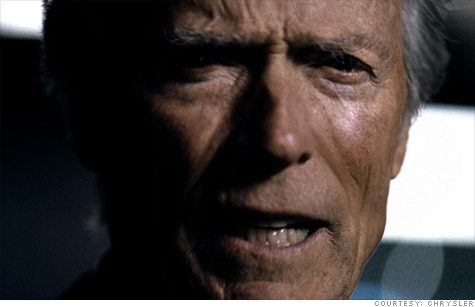 Analysts praise Chrysler's Detroit-centric Super Bowl ad, with Clint Eastwood cheering Americans' 'can-do' attitude.
NEW YORK (CNNMoney) -- Once again, Chrysler's Super Bowl ad won the hearts and minds of football fans, this time with a little help from Clint Eastwood and, of course, Detroit.
"It was superb," said Kelly O'Keefe, professor of brand strategy at Virginia Commonwealth University, immediately after Chrysler's "It's Halftime in America" spot aired during the Super Bowl on Sunday. "They had the courage to take the power of emotions. I got goosebumps."
The lengthy Chrysler spot featured Eastwood, who starred in and directed the acclaimed Detroit-centric film "Gran Torino," as he extols the hardscrabble virtues of Motor City and America.
"This country can't be knocked out in one punch," Eastwood, said. "We get right back up again, and when we do, the world will hear the roar of our engines. It's half time, America."
The spot was reminiscent of last year's Chrysler ad, which featured the Detroit rapper Eminem and celebrated the battered city's scrappy, all-American can-do attitude.
O'Keefe said that Chrylser had managed to take "ownership of Detroit," usurping that image from competitors Ford (F, Fortune 500) and General Motors (GM, Fortune 500).
Tim Calkins, a marketing professor with Northwestern University's Kellogg Super Bowl Advertising Review, said that the Chrysler ad breaks away from the otherwise familiar Super Bowl ad themes of scantily clad women, cute animals and humor.
These themes are the bread and butter of ads from outfits like GoDaddy and Teleflora, featuring gorgeous women like Danica Patrick and Adriana Lima, and Skechers (SKX), which starred a previously unknown French bulldog named Mr. Quiggly.
But Calkins said that Chrysler aired a "stand-out ad" that was "serious and engaging."
"After seeing dogs doing funny things and then GoDaddy, it's really different seeing an ad that's dark and serious and trying to say something," he said.
Automobile ads were back in full force this year, as U.S. automakers test the waters of consumer confidence. Randle Raggio, an assistant professor of marketing at the University of Richmond, said that Chevrolet had one of the most successful spots, with its apocalyptic theme.
"The only thing that will survive the apocalypse is a Chevy and a Twinkie," said Raggio. He said the ad was successfully "reinforcing" the message of Chevy as "the longest lasting truck."
NBC broadcasted the big game, which featured the most expensive Super Bowl ad time ever, averaging $3.5 million per 30-second spot.