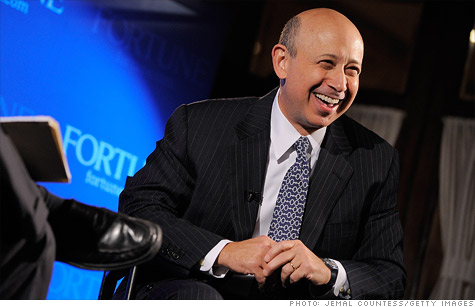 Goldman Sachs CEO Lloyd Blankfein cuts 30-second spot for group pushing same-sex marriage, arguing 'equality is just good business.'
NEW YORK (CNNMoney) -- Goldman Sachs CEO Lloyd Blankfein has recorded a commercial endorsing the right to same-sex marriage, becoming one of the highest profile corporate executives to weigh in on the controversial campaign.
In the 30-second spot recorded for the Human Rights Campaign, a national group pushing for equal rights for gays, lesbians, bisexual and transgender people, Blankfein identifies himself as CEO of Goldman and says he supports marriage equality.
"America's corporations learned long ago that equality is just good business and is the right thing to do," he said. (Gays lose big on taxes)
The Human Rights Campaign heralded his statement as an important turning point in the same-sex marriage debate.
"Lloyd Blankfein is not someone average Americans would think is going to support marriage equality," said Fred Sainz, vice president for communications and marketing at the group. "The green visor crowd is not typically associated with socially progressive policies, and this is further proof that a diversity of Americans are coming to the same conclusion."
New York, home to Goldman Sachs, legalized same sex marriage last summer. And the firm, which ranked 33rd on Fortune magazine's most recent ranking of Best Companies to Work For, already has a non-discrimination policy in place that includes sexual orientation.
But Goldman (GS, Fortune 500) is also a hot-button target of those who criticize Wall Street and huge executive salaries, such as the liberal Occupy Wall Street movement. The average salary for a Goldman employee was $367,057 in 2011, according to its most recent earnings statement.
Blankfein has taken his share of personal hits during the debate about Wall Street dollars, the 2009 financial meltdown and the federal bailout of big banks, such as when he told a London newspaper in 2009 that he was just "doing God's work."