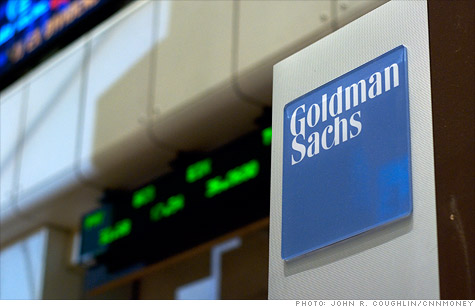 Goldman Sachs blamed a decline in M&A activity for its revenue slump.
NEW YORK (CNNMoney) -- Goldman Sachs reported a fourth-quarter profit of about $1 billion on Wednesday, reversing a loss from the third quarter and topping expectations. But the company's revenue declined from a year ago and missed analysts' forecasts.
Slashing compensation and nearly $1.4 billion in other expenses helped Goldman Sachs (GS, Fortune 500) generate its nearly nine-figure profits last year.
Chief financial officer David Viniar said cost-cutting won't be the firm's primary focus going forward. "It's not possible to cut expenses as a means to prosperity," he said during a conference call following the earnings release.
After highlighting the bank's plans to generate future profits by expanding its global footprint, Viniar admitted that Goldman Sachs has moderated its pace of investing in "growth regions" including Latin America and Asia.
Investors cheered Goldman's earnings pushing up its shares more than 5% Wednesday. The firm's stock is already up 8% so far this year, after falling 46% in 2011.
The firm reported earnings per share of $1.84 for the fourth quarter. Analysts were expecting a profit of $1.24 a share. Net income totaled $978 million in the fourth quarter, compared to a loss of $428 million in the third quarter. Goldman earned more than $2.2 billion in the fourth quarter of 2010.
The firm, known for its lucrative annual bonuses, reported a 21% decline in compensation and benefits in 2011, to $12.2 billion. Even with the cuts, the average salary for a Goldman employee was $367,057, down from $430,700 in 2010. Goldman also trimmed its staff by roughly 7% in 2011.
CFO Vinier sounded few notes of optimism on the call. Fielding several questions on opportunities in Europe, Vinier said Goldman Sachs isn't seeing too many prospects there yet.
Vinier estimated that the bank's total exposure to the sovereign debt of Portugal, Italy, Ireland, Greece and Spain was $3.9 billion in 2011.
The investment bank reported fourth-quarter net revenues of slightly more than $6 billion, up from $3.6 billion in the third quarter but down from $8.6 billion a year ago. Analysts had expected Goldman to report revenue of about $6.5 billion.
The firm blamed a decline in mergers and acquisitions activity in for a 43% drop in fourth quarter investment banking revenue.
Outside of compensation, Goldman Sachs kept expenses steady in 2011, at $10.42 billion. While fees related to trading increased in 2011, the firm decreased its litigation expenses from 2010, when litigation expenses included Goldman's $550 million settlement with the SEC.
Despite the slowdown in revenues, Goldman CEO Lloyd Blankfein said in a statement that he was seeing "encouraging" signs of improvement in the markets and economy. Unlike CEOs of major banks, Blankfein never participates on quarterly conference calls, according to a Goldman Sachs' spokesperson.
Goldman's report follows disappointing results from rivals Citigroup (C, Fortune 500) and JPMorgan Chase (JPM, Fortune 500). But Wells Fargo (WFC, Fortune 500) posted earnings that pleased investors. Bank of America (BAC, Fortune 500) and Morgan Stanley (MS, Fortune 500) are due to release their fourth-quarter numbers later this week.