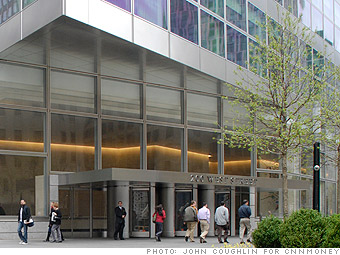 Rank:
33 (Previous rank: 23)
What makes it so great?
Even after the negative headlines of the past few years, I am very, very proud to work for the firm. That's the prevailing view of Goldman workers, who call their firm a meritocracy that gets a bad rap from the press.
Headquarters:
200 West Street
New York, NY 10282
2010 revenue ($ millions):
39,161
Website:
www.gs.com
Network with Goldman Sachs
Pay
Avg. annual pay*
Most common job (salaried):
Other Exempt (Analysts, Program Analysts, Associates, and Professional Non-Exempt)
$139,200
Most common job (hourly):
N.A.
N.A.

| Work-life | |
| --- | --- |
| Job sharing program | Yes |
| Compressed workweek | Yes |
| Telecommuting | Yes |

Diversity
% minorities
N.A.
% women
N.A.
Has nondiscrimination policy
that includes sexual orientation?
Yes
Offers domestic partner benefits
for same-sex couples?
Yes

| Professional training | |
| --- | --- |
| Salaried employees (hrs./yr.): | 27 |
| Hourly employees (hrs./yr.): | 0 |

From the Feb. 6, 2012 issue