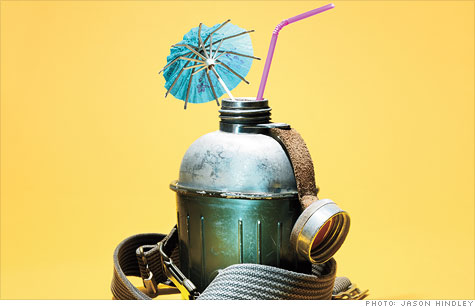 Rafting, cycling and trekking trips are red-hot and often pricey. Use these smart strategies to keep costs down to earth.
(MONEY Magazine) -- Lots of Americans these days want something more from a vacation than vegging out on a beach, a mojito close at hand. Some 30% of respondents to a Travel-Ticker.com survey put adventure travel on their 2012 wish list, and spending in the category has been growing 17% a year, even as economic woes slowed leisure travel overall.
Engaging in intense physical activity, connecting with nature, discovering an exotic culture -- if you're lucky, such experiences will send you back to your everyday life with a renewed sense of passion and purpose.
As you might expect, myriad high-end outfitters will gladly plan and execute an expedition fit for Papa Hemingway, packaging together all your meals, hotels (or comfy campsites), gear and guides.
Making such a transformational experience happen at affordable rates, however, is no small challenge. After all, getting outside your comfort zone is one thing; forgoing all manner of modern comforts quite another. And if you're new to activities like kayaking, white-water rafting, or zip-lining, well, they're best undertaken with some expert guidance -- which can cost you.
So MONEY called on industry insiders for advice on ways to put together a trip that will blow your mind without blowing your budget. What follows are four strategies for saving on world-class active travel.
Go at shoulder season
Every great destination has a peak season, often coinciding with school vacation. Be flexible to avoid crowds and premium pricing -- and perhaps discover an under-appreciated side of an iconic experience.
Rafting in the spring: High season for rafting in Idaho and Colorado is July. For an even bigger thrill -- and better prices on accommodations and guided trips -- arrive a month earlier, when the rivers rage. "It's not the time to bring the youngest kids," says travel adviser Caroline Bach Wood, "but it's great if you're an adventure seeker."
Savings: Six days on Idaho's Salmon River with OARS runs $1,982 a person in June, or about 15% off peak prices.
South America in the spring: Argentina and Chile are hiking hot spots in our winter, their summer. Go in April, May, or June, and you'll save big, says travel consultant Betty Jo Currie. Ditto for Machu Picchu: High season is our fall, but she says the Inca ruins are "much more beautiful at the end of rainy season."
Savings: A nine-day trek in Chile with Wildland Adventures is $3,195 in high season, but $2,650 in April, or 17% less.
Costa Rica in November: The wet season is tapering off in November and early December, says Wood. "It may still rain a bit, but you'll get to do the activities you planned, and the greenery will be more beautiful."
Savings: A four-day Adventure Costa Rica package that costs $937 a person after December 19, is $776 before -- 17% less.
Go local
Most big-name adventure-travel packagers -- like Butterfield and Robinson, Mountain Travel Sobek, Backroads, and OARS -- provide an indisputably solid experience. But bypassing the blue-chip brand for a local tour operator can pay off in more ways than one.
First, you can save money.
Local operations generally have lower overhead and marketing costs, so their trips often cost around 15% less, says travel adviser Wood.
Plus, your guides are likely to be full-time residents who know secret trails and local history.
Says Wood: "It's a more intimate experience with guides who have been there for 20 or 30 years."
How do you find the right mom-and-pop outfitter? Start by looking at those that have been in business for at least 10 years under the same ownership. To help zero in, Wood suggests calling the concierge at a local four- or five-star hotel for recommendations.
Customer comments at sites like TripAdvisor can be all over the map -- beware reviews planted by the outfitters themselves -- but worth reading with a skeptical eye.
When you call -- and booking adventure travel on the Web is risky, so you should call -- the person on the phone ought to be able to offer specific advice tailored to your group's level of experience and interests.
Go somewhere almost as good
The most popular adventure-travel destinations are also expensive and often crowded. If you are open to alternatives, you'll find that your travel dollars will go further and the wide-open spaces might actually be just that -- wide open.
Hiking
The classic: Jackson Hole, Wyo., gateway to Grand Teton National Park
Sound alternative: Whitefish, Mont., and Glacier National Park
The case: Fewer crowds plus better lodgings for your money. Rooms at the Lodge at Whitefish Lake start around $200, $100 less than comparable rooms in Jackson Hole. You'll save on hiking too: A guided trek in Glacier costs $450 a day for six. A similar trip in Grand Teton is $725 for four, $865 for six.
The classic: Yosemite
Sound alternative: Vegas, baby
The case: "People forget Las Vegas is hiking country," says Travel-Ticker.com general manager Jasmine Kim. Red Rock Canyon is 20 miles away, the Hoover Dam and Lake Mead just a bit farther. The Sin City's gambling-subsidized hotel rooms (a night at the swank Bellagio can cost $150) are a great base for adventure excursions.
Rafting
The classic: Middle Fork of Idaho's Salmon River
Sound alternative: Idaho's Snake River Hells Canyon
The case: A five-or six-day rafting expedition on the iconic Middle Fork costs as much as $2,000 a person. You can cut that figure in half on the Snake River. The trip is a day or so shorter, but, says Wood, "you still get scenic river canyons and that epic white water."
Cycling
The classic: Tuscany
Sound alternative: Germany's Mosel River Valley
The case: The bike paths along the Mosel River are a great introductory cycling trip, says Dan Austin, a director with Austin-Lehman Adventures. "You'll still get the quintessential European bike vacation, visiting wineries and the small villages," he says. But at around $2,700 for a seven-day trip, it'll cost at least 20% less.
Go as a volunteer
Lots of folks have the impulse to do volunteer work but can't manage to fit it into their daily lives. Thus, more Americans are devoting vacations to such efforts, often while immersing themselves in a foreign culture.
What it is: Aside from the satisfaction of doing good, volunteer travel can be a chance to work among native communities and see a rarely glimpsed side of foreign cultures.
Options range from working with elephants in Sri Lanka to teaching children English in Kenya. You can plan through a nonprofit -- Habitat for Humanity and Foundation for Sustainable Development are among the groups that run trips -- or a specialty travel agency.
What it costs: These are working vacations, and room and board are often modest. Still, the range is vast, from $275 for a week of domestic trail maintenance and camping with the American Hiking Society to $4,750 for a week of volunteering in Guatemala and a week touring the country with Hands Up Holidays.
Way to save: Look for a trip that you can write off on your taxes. Consult your accountant, because the rules are tricky, but if you book through a nonprofit and work full-time (eight hours a day), you generally can deduct trip costs and airfare, says CCH tax analyst Mark Luscombe.
Resources: Search for projects that fit your interests at flyforgood.net and voluntourism.org.
Beth Braverman and Tali Yahalom contributed to this article.
MONEY magazine is researching an article on ways to reduce the financial pain of college. We're looking for families that can talk about new and creative ways that they're raising cash for college and cutting costs while they're there. Sound like you? Tell us your story and you might even get your picture in the magazine! E-mail Beth_Braverman@moneymail.com.