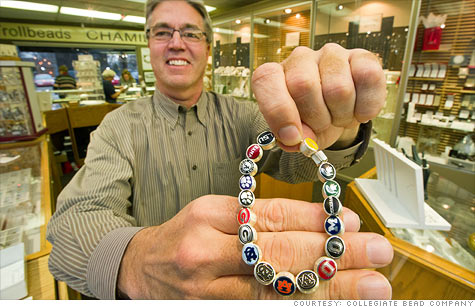 Dave Schowalter, owner of Collegiate Bead Company, shows off his colorful sterling silver beads, featuring the logos of various universities, fraternities and sororities.
NEW YORK (CNNMoney) -- Dave Schowalter, the son of a former gold miner, hit a gold mine of sorts when he started manufacturing specialty oval-shaped sterling beads.
Sterling beads are found in a wide array of jewelry, including Pandora and Chamilia, the popular add-on charm bracelets.
But those with sorority, fraternity and university logos did not exist four years ago. Schowalter, 52, discovered that there was pent-up demand for such beads. Not long after his million-dollar business Collegiate Bead Co., which creates them, was born.
In 2008, Schowalter ran Miner's Den Jewelers, a jewelry supplier in Royal Oak, Mich., founded by his father, a former gold miner in Alaska. That same year, he also had brain surgery and during his recovery period he happened to notice a company e-mail from a woman detailing her fruitless search for a sorority bead to add to her Pandora charm bracelet.
"Our passion was rocks and minerals instead of jewelry," said Schowalter.
Recuperating was going to take a while, so Schowalter decided to create such a bead. He spent the next three months making the industry's first oval-shaped, sterling silver bead with the sorority logo -- all by hand.
He put the prototype online, and got a tremendous response, he said. But sorority officials came after him saying he was infringing on their trademark, he said. He took the prototype off the website. But that didn't deter him from wanting to create collegiate sterling beads. He quickly began filling out forms to apply for licensing from universities to create more stylish beads compatible with Pandora and Chamilia charm bracelets.
Michigan State University was the first school Schowalter approached, and it wasn't long before he got the okay to make green-and-white Spartan beads. University of Michigan soon followed and more schools -- all across the country -- came on board after they caught wind of the beads' popularity.
The approvals emboldened him to seek financing from several banks in 2009. But he was turned down. "Nobody was lending money," said Schowalter, who finally put up $50,000 of his own money. Collegiate Bead Co., (www.collegebeadco.com), was launched as a virtual company to help keep costs down. His 28-year-old son builds and runs the software. He has just five other employees.
Today, Collegiate Bead Co. -- which is separate from Miner's Den -- retails beads ($49) for sororities, fraternities, 150 colleges and universities, even travel destinations. In early October, the business crossed over the $1 million mark. At that time, Schowalter thought, " 'Wow, that's great, but there's so many irons in the fire.' When we pass over the $10 million market, we'll give each other high fives."
He credits the success of his company to record-high gold prices -- silver is much more affordable -- and the popularity of Pandora charm bracelets.
The company initially had its beads manufactured in China, but recently, Schowalter was able to bring production back to the United States. The beads are now made in Grand Rapids, Mich., which allows Schowalter to keep a closer eye on the product -- nearly impossible to do when it's being made across continents.
"We've had to do that -- hop in the car, approve a color, and come back in the same day -- instead of having that question linger for three or four weeks," said Schowalter.
He also made the change because the end product from China fell short of his expectations, he said. "What we're making now, we can say without hesitation, is the highest quality product," he said. "It's light years ahead of China."
Doug Hickman, who owns Nifty Things! with his wife in three Michigan cities, agreed. "The quality he's producing here is much better than what he got offshore," said Hickman, whose company is the largest seller of Schowalter's collegiate beads. "They used to be black and silver. Now they can match school colors."
Next, Schowalter plans to reach out to sports fans with beads for organizations, such as the National Football League and the Union of European Football Associations, first applying for the licensing. He also plans to offer two upscale bracelets -- braided-leather wrap and Swarovski pearls -- with beads that cost $99 and less.
Renee DeLaRosa, of Royal Oak, Mich., bought for her boss, a Kansas transplant, Kansas State University beads to honor her children who attended school there. Word spread around the office quickly about this innovative local business.
"It was like I had a whole grocery list of beads to buy. I think he's really on to something here," said DeLaRosa. "He's very much a buy-local kind of guy. He likes to support small businesses in the community too."