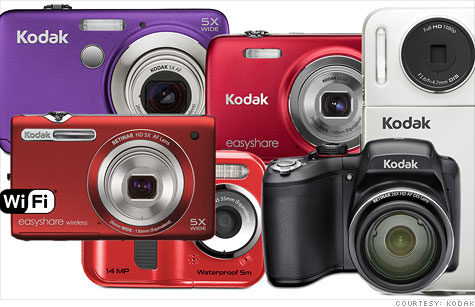 Kodak showed off six new digital cameras at a trade show in January, but mere weeks later it's ditching that part of the business.
NEW YORK (CNNMoney) -- Kodak is exiting the digital camera business and it will instead license its brand name to other camera manufacturers, the company announced Thursday.
Kodak will "phase out its dedicated capture devices business" -- which includes digital cameras, pocket video cameras and digital picture frames -- in the first half of 2012. The company's consumer business will instead focus exclusively on photo printing, through retail and online services as well as desktop inkjet devices.
The iconic photography company, based in Rochester, N.Y, is looking for ways to monetize after filing for Chapter 11 bankruptcy protection on January 19.
Once the digital camera phase-out is complete, Kodak expects an annual operating savings of more than $100 million. But it will also take a charge of $30 million to cover the layoffs related to its exit from the business.
The announcement comes just weeks after Kodak showed off six new cameras (pictured above) at the Consumer Electronics Show in Las Vegas.
Kodak stopped selling traditional film cameras in 2004. It still sells disposable cameras.
Eastman Kodak stock (EKDKQ), which trades on the pink sheets following its Chapter 11 filing, rose 3.3% to about 44 cents in morning trading.
A film icon's decline: Kodak has struggled to keep up with digital technology, and the company's sales and stock price have reflected those problems.
Sales shrunk almost in half from 2005 to 2010, and profits dried up. Kodak was delisted from the S&P 500 in December 2010.
In July 2011, Kodak said it was exploring the sale of more than 1,100 patents, or 10% of the company's patent portfolio. In September of that year, Kodak tapped $160 million from a pre-existing $400 million credit line -- a move that prompted Moody's to downgrade the company's debt securities, pushing them further into junk territory. Bankruptcy rumors began swirling two days later.
Kodak is now banking on its "strong position in the personal imaging market," as Thursday's press release put it. Meanwhile, Kodak will continue to honor all digital camera product warranties and provide technical support and service.