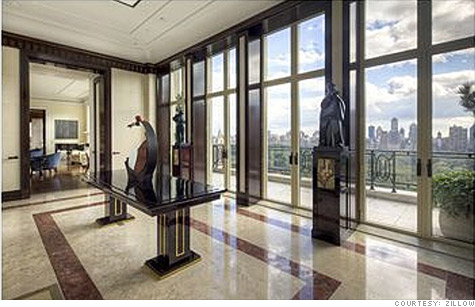 The gallery of the penthouse in 15 Central Park West has sweeping views of Central Park.
NEW YORK (CNNMoney) -- The most expensive apartment ever sold in Manhattan went for a cool $88 million this week.
The penthouse apartment on Central Park West was formerly owned by Citigroup founder Sanford Weill. It was bought for the original asking price in a deal that closed Feb. 15.
The apartment was bought through a trust under the name of Ekatarina Rybolovleva, the 22-year-old daughter of Russian billionaire Dmitry Rybolovlev, according to a Wall Street Journal report.
The 4-bedroom apartment has a wraparound terrace, windowed chef's kitchen and roof garden. It's approximately 6,744 square feet with 4 1/2 baths and an oval-shaped master bedroom, according to the listing on realtor Brown Harris Stevens' website.
In addition to the record price, the transaction also marks the highest price per square foot ever paid in Manhattan at over $13,000. The previous record residential sale in Manhattan was the $53-million purchase of a townhouse on East 75th street, near Fifth Avenue by J. Christopher Flowers in Oct. 2006, Jonathan Miller, president and CEO of Miller Samuel, a New York appraisal firm. But, the former Goldman Sachs partner later sold that property in 2011 for $36.5 million, resulting in a 31% loss.
Weill had much better luck with his real-estate investment. He bought the apartment in Sept. 2007 for $42.4 million, according to public records, more than doubling his money on the place.
"The fact that this property sold does not say much for where the market is going, it represents a very narrow sliver of the market, which is essentially a trophy property market," noted Miller.
"That [segment of the] market is performing well, aided by foreign buyers and wealthy individuals," he added.
Overall, Manhattan home prices averaged $1.4 million in the fourth quarter of 2011, according to Brown Harris Stevens' most recent data. The median price, which measures the middle of the market and is less impacted by the very high end, fell 8% to $785,000 in the fourth quarter, down from $850,000 in the previous period.
Correction: An earlier version said Weill got a 50% return on the apartment but he actually more than doubled his money.