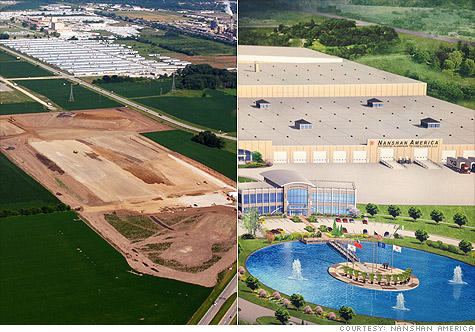 Nanshan America, a Chinese aluminum components maker, was courted heavily by Indiana to open an American plant in Lafayette. Above (right) is what the $98.5 million facility will look like once it is completed.
NEW YORK (CNNMoney) -- Betting on a resurgence in manufacturing, states are aggressively rolling out the red carpet to businesses to set up shop or expand production within their borders.
Indiana, Utah, Idaho are among the many states courting companies in hopes of boosting jobs and revenue.
"Their high-level sell generally includes tax breaks, incentives for training workers, low utility rates and incentives for using alternative energy," said Scott Paul, executive director with the Alliance for American Manufacturing.
Indiana is offering all of that, and more. The Rust Belt state has cut its corporate tax rate by 25%, reduced property tax rates by a third, and increased R&D tax credits.
As a result, it saw a record 219 new manufacturers -- representing pharmaceutical, biotech and wind industries -- open or expand their operations there for the first time in 2011.
"That was a 20% increase over our previous record in 2010," said Dan Hasler, Indiana's secretary of commerce. "Our goal was to make our sandbox as friendly to business as possible."
Indiana is a prime manufacturing spot because of its location and pool of skilled talent. The state sits within a 14-hour truck drive to 80% of the nation's population.
"It makes us appealing to businesses who want to save on fuel costs and quickly reach consumers," said Hasler.
In January, California-based life sciences company NantWorks announced it was investing $85.5 million to update a former Pfizer (PFE, Fortune 500) manufacturing facility in Terre Haute, Ind., to produce injectable oncology drugs. NantWorks estimates the move would create 234 local jobs by 2016.
"We looked at other states but Indiana was very attentive to us," said Bob Peirce, senior vice president with NantWorks. "The facility makes sense and isn't too far from schools with the right labor force."
Nanshan America, a subsidiary of China's Nanshan Group is another coup for Indiana.
The maker of aluminum components used in subway trains broke ground in Lafayette for its first manufacturing plant in the United States. Its first production line will be ready in July.
The 600,000-square-foot plant, costing $98.5 million, is expected to create 150 to 200 mostly local jobs by 2013, said NanShan America president Lijun Du.
Four states were in the running for its business. Indiana won because "60% of our market is in the Midwest," he said. "This keeps our transportation costs low. Energy costs here are lower, too."
Nanshan was also offered a $10 million state-and-city incentive package that was hard to resist, including compensation to train workers and offset the cost of buying a $1.6 million 50-acre plot in the middle of cornfields.
In Utah, 21 manufacturers, ranging from food and medical device makers to aerospace parts makers, have expanded or relocated to the state in 2011.
Utah's selling point: "Utah has the second youngest labor force in the country," said Jeff Edwards, president of Utah's Economic Development Corporation.
"We've kept taxes low. We have low natural gas costs and we're reviewing and removing more than 200 regulations in order to be more attractive," said Edwards.
Utah has added 5,231 manufacturing-related jobs since 2011. "That's not bad for a small state with 113,000 people working in manufacturing," he said.
Seattle-based Janicki Industries, which makes high-precision tooling for fighter and commercial planes, was a big get for Utah. The family-owned company just completed a 250,000-square-foot, high-tech facility in Layton, and hired 50 engineers.
"We spent more than two years in this courtship," said Spencer Eccles, executive director with Utah's governor's office. "We got to know the family. We helped them find a good site and aligned them with community colleges to find the workers they needed."
In Idaho, 1,530 new businesses came to the state last year to do business. Half of them were manufacturers and food processors.
"Idaho isn't a big check state. We're not writing big incentives to bring these businesses in," said Jeffery Sayer, director with Idaho's department of commerce.
"What sets us apart is that when a company comes to Idaho, we quickly collaborate with them, from the local to state agencies, to set them up," he said. "Sometimes speed is as good as money."
While agriculture is the state's flagship industry, Idaho's "rec-tech" industry that makes knives, rifles and other outdoor products, is booming as well.
"We have no problem manufacturing guns in the state," said Sayer.
Idaho's neighbor Oregon is enjoying a recent boom in big tech names such as Google (GOOG, Fortune 500), Facebook, Amazon (AMZN, Fortune 500) and most recently Apple (AAPL, Fortune 500) setting up large data processing centers in the state.
Apple this week bought 160 acres in central Oregon to build its data center.
"One thing that makes us attractive is that Oregon has no sales tax, and offers affordable utilities," said Jill Miles, national recruitment officer with Oregon Business Development. "When you're buying hundreds of millions of dollars of servers and other hardware, this saves money."
Facebook's facility was up and running last year. "We expect it will create up to 100 direct jobs when it is fully operational," she said.