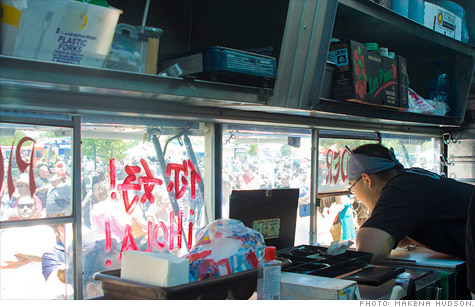 Rising gas prices could force Lawrence Lie, co-owner of Los Angeles food truck Don Chow Tacos, to change how he operates.
NEW YORK (CNNMoney) -- Businesses that rely on fuel to get their products directly to customers are bracing for a sharp rise in gas prices.
Among those most affected are online grocers, Internet bakers and food trucks.
Some are considering options they took during the last oil price peak in 2008: jack up prices, shrink service areas and cut jobs.
Steve Rossen and Jana Fain-Rossen, the Los Angeles husband-and-wife team at online bakery Mardy's Munchies, might have to cut the job of one of their drivers.
"We're terrified," Fain-Rossen said. "We don't want to let anyone go, but we have a family to support. We're actually wondering if we should raise prices now in anticipation of prices going up so that we don't get hit later unexpectedly."
That's because the couple relies on a gas-guzzling Chevy pickup truck to transport its tables and tents to farmers markets, where they show off red velvet cakes and white chocolate pecan brownies. The equipment can't fit into a smaller and more fuel-efficient car.
If gas prices climb above $5 a gallon, Fain-Rossen worries raising prices on customers might not be enough.
"We've already sacrificed so much for our little community bakery," she said. "The only other thing we could give up is to reduce our personal grocery costs, and then possibly let go of an employee and save that salary."
Larger operations, like online grocer Pink Dot in Los Angeles, are considering dropping customers. Co-owner Sol Yamini said he already did it to Santa Monica residents in 2009, when he reduced his service area from a 10-mile radius to six.
"It just wasn't worth it anymore," Yamini said.
Soon, six miles might not be either.
The average price of refueling near Pink Dot, located at the foot of the ritzy Hollywood Hills, reached $4.56 Monday, up six cents from Friday.
The nationwide average price of unleaded gas has also been soaring. It has jumped 29 cents in the last month and reached $3.69 Monday, a rise attributed in part to worsening tensions over Iran.
If the spike continues, Yamini expects his suppliers to charge him more for goods, a cost he'll pass along to consumers. He expects suppliers to also apply fuel surcharges. But if that translates into slower business, Yamini said he'll be forced to let go of drivers and operators, too.
Higher fuel costs could also reshape the way gourmet food trucks operate.
Part of what makes Don Chow Tacos so special is that the food truck isn't in any one place very long, co-owner Dominic Lau explained. Its signature Chinese barbecue pork tacos and Chinese tamales are served anywhere from the California coast to the desert city of Palm Springs 120 miles east.
"We don't want to saturate an area." said Lau. "We want to have it so when we come out once per month, you line up and wait for us to come."
But that business model was made when the national gas price average was nearly half of what it is today. For Lau, the zigzagging across Los Angeles is over.
"When I plan and book our next venue, I'll keep lunch and dinner in the same area. Now we're stuck on one side of town," Lau said.
Are you a U.S. small business owner taking innovative steps to prepare for expensive gas? Email Jose Pagliery and share your story. Click here for the CNNMoney.com comment policy.