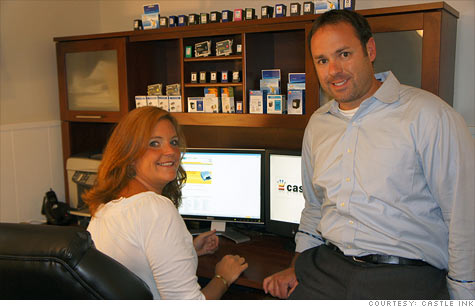 It pays to be green: Lauren Elward and her husband, Bill, made $1 million in revenue recently by selling recycled ink cartridges.
NEW YORK (CNNMoney) -- As a high-school English teacher Lauren Elward, 33, blew through hundreds of ink cartridges printing out syllabuses and handouts for her students.
Convinced there had to be a cheaper way to replenish ink, Lauren launched Castle Ink (www.castleink.com) in 2005 out of her Greenlawn, N.Y., home. The company retails repurposed ink cartridges for printers and toners from at least seven different companies, including Lexmark (LXK), HP (HPQ, Fortune 500) and Epson.
Used ink cartridges are refilled with new ink and thoroughly tested before they are resold. Castle Ink also sells refill kits for customers who prefer to pour fresh ink into their used cartridges themselves.
"We've always been avid recyclers," said Lauren's husband Bill, 35. "Refurbished ink cartridges keep millions of pounds of plastic out of our landfills each year."
With no loans, the Elwards put $5,000 of their own money into the business, to hire a web designer and launch a website. There was, and still is, no storefront. Nor are there any additional employees. During the business' incubation stage, the couple kept their day jobs as a safety net.
In June, they crossed over the $1 million in revenue mark. "It was a big win, psychologically, the idea that you can do that on the side and out of your house," said Bill. "We've spent almost no money on marketing. We've been able to drive 100,000 visits a month just on Google (GOOG, Fortune 500) alone."
This, in addition to keeping the business entirely virtual, allows them to offer competitive pricing even as more competitors crop up. "There are definitely companies out there that have a product like ours," said Bill. "Our customer service is one differentiating factor. We have a 100 percent satisfaction guarantee."
The company also pays for return shipping.
Karen Hall, a compliance assistant who orders office supplies on behalf of Home Loan Investment Bank in Warwick, R.I., from Castle Ink, agreed that Castle Ink's customer service is good. "When you ask a question, the turnaround time is 30 or 45 minutes," she said. "And, our delivery time is very quick -- within a day it is usually here."
In 2007, Castle Ink grew profitable enough that Lauren could fulfill her dream: to quit her teaching job. "She went on maternity leave and never went back" to work, said Bill. Eventually, they outsourced customer service, which includes inventory and filling orders. "For a long time my wife was handling all the customer service. That was a killer for her. Through a relationship with our vendor [in South Carolina], we were able to have them handle that," said Bill.
Their biggest challenge, however, even with Lauren devoted to just Castle Ink, is managing their time. Bill still works full-time in web analytics, digital strategy and online marketing at College Board, a not-for-profit designed to connect students with college opportunities. The couple is also raising two young children. Often their energy is zapped. That they cannot immediately act upon brilliant ideas or brainstorming sessions is frustrating.
Another hurdle has been to retain competitive pricing. "A lot of the dealers are importing out of China, and it's poor-quality ink," said Bill. "They're undercutting us by a few dollars."
Castle Ink counteracts that threat by promoting its recycle-friendly mantra, which wins over many customers. One fan is Nev Norona, who began buying ink cartridges from Castle Ink three years ago. "I have always returned my cartridges to them after they are depleted, since I know they will either recycle them or use them for other purposes," said Norona, who lives in Flint, Mich.
In early 2010, the company launched an annual college scholarship fund, awarding $2,500 to a student expressing a passion for recycling and environmental conservation. An additional $1,000 was awarded last year as a "paperless scholarship" with an online application process. "We're trying to help students and get them to seek out higher education," said Bill.
Addie Spahr, founder of Green Living Consulting, agreed that Castle Ink's eco-friendly angle is a key to its success. "Building a culture of green is becoming 'smart business', and it seems that the companies making that connection are the ones staying afloat in tough economic times," she said.